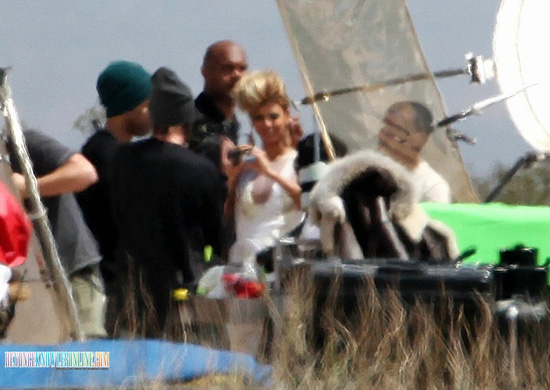 She's baaaaaaaaaaack!
Beyonce was spotted out in the California section of the Mojave Desert on the set of what is said to be her new music video. So far, it has yet to be confirmed what single this video is for, but word is going around that this is for a song called "Girl."
According to various reports, the video (directed by Francis Lawrence) will feature up to 200 (or more) female dancers and only 2 male dancers. Regarding the song, a fan posted to a message board that it is a "female empowerment/girl power type song," adding that it is also a "club banger."
"The beat is driven by a sample of a popular club song that a lot of you will probably recognize," the fan continued. "There's a breakdown in the song that is described as absolutely disgustingly sick! Definitely an anthem in the style of her singing."
Check out lots of blurry pictures from Beyonce's "mystery video shoot" below!
Be the first to receive breaking news alerts and more stories like this by subscribing to our mailing list.