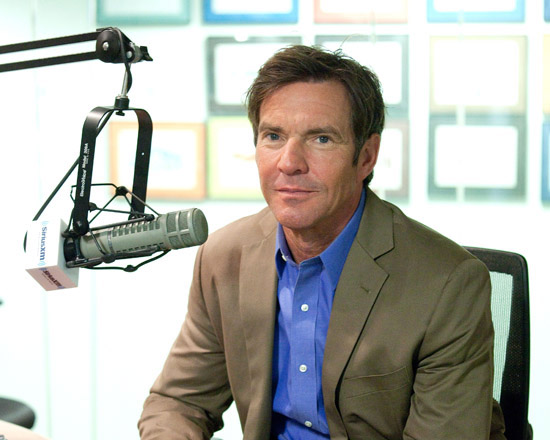 Actor Dennis Quaid has come out and admitted to having a SERIOUS coke binge during the 70's and 80's.
In a recent interview with Newsweek, the GI Joe actor opened up about his then, serious addiction. Quaid told of how the habit began:
"My greatest mistake was being addicted to cocaine. I started after I left college and came to Los Angeles in 1974. It was very casual at first. That's what people were doing when they were at parties. Cocaine was even in the budgets of movies, thinly disguised. It was petty cash, you know? It was supplied, basically, on movie sets because everyone was doing it. People would make deals. Instead of having a cocktail, you'd have a line. So it was insidious, the way it snuck up on everybody. Coming from where I came from—lower-middle-class life, from Houston into Hollywood—and all of a sudden this success starts happening to you, I just didn't know how to handle that. Doing blow just contributed to me not being able to handle the fame, which, at the time, I guess I felt I didn't deserve."
During shooting his film The Big Easy, Quaid confessed:
"By the time I was doing The Big Easy, in the late 1980s, I was a mess. I was getting an hour of sleep a night. I had a reputation for being a "bad boy," which seemed like a good thing, but basically I just had my head stuck up my ass…I'd wake up, snort a line, and swear I wasn't going to do it again that day. But then 4 o'clock rolled around, and I'd be right back down the same road like a little squirrel on one of those treadmills. I kind of realized I was going to be dead in five years if I didn't change my ways. The next day I was in rehab. If I hadn't gone through that period, I don't know if I'd still be acting."
Some stars find it hard to stop once they start. So how did Quaid manage to become drug free?
"…those years in the '90s recovering—actually chiseled me into a person. It gave me the resolve and a resilience to persevere in life. If I hadn't gone through that period, I don't know if I'd still be acting. In the end, it taught me humility. I really learned to appreciate what I have in this life."
Now Dennis, if only the rest would join you!
[ Newsweek ]
Be the first to receive breaking news alerts and more stories like this by subscribing to our mailing list.