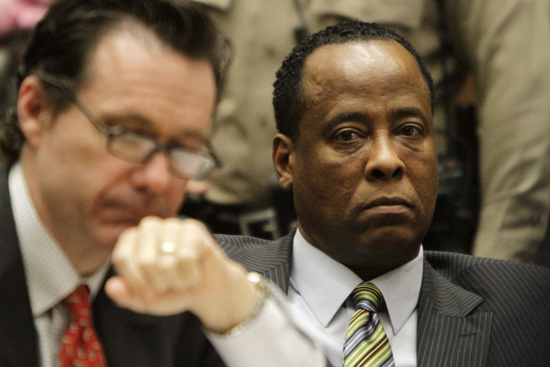 No big surprise here. The lawyer for Dr. Conrad Murray, the doc accused of administering the drugs that killed Michael Jackson, is claiming that his client is innocent.
The AP reports that Murray's lawyer, Edward Chernoff, is arguing that it was Jackson himself and not Murray who is responsible for ended the King of Pop's life.
In a pre-trial hearing, Chernoff argued that Jackson was so down and out over his declining empire and deep debt that he took his own life, and asked for access to Jackson's financial records in order to prove it.
However, not everyone was feeling the doc's defense. Prosecutors slammed Chernoff, claiming that his allegations were part of a ploy to defame Jackson.
The judge denied Chernoff's request on grounds that it was an unnecessary invasion of Jackson's privacy. The court is still screening jurors for the upcoming trial.
Shame on Dr. Murray for trying to throw this on Mike. Straight scumbag move.
Be the first to receive breaking news alerts and more stories like this by subscribing to our mailing list.