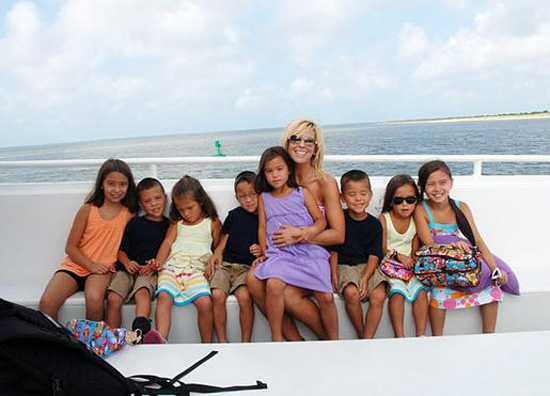 In a recent interview on Monday with NBC's Today show, Mother of eight Kate Gosselin admitted that any future love interest she comes across … better be prepared to help carry the heavy load she has.
Gosselin confessed:
"You start out the first time around, and you're some single girl with not a lot of baggage or issues. I like to have fun, and I don't have a lot of time for myself. I do have eight kids. I feel like I have my life together, pretty much. But let's be honest. It's going to take a strong person to wrangle this mess."
When asked if possible love interests are scared of her she situation she said:
"Probably. If he can pass the test, he's got to be Superman."
Speaking of suitors … does she and ex-husband John have any kind of relationship?
"I am doing what I can to reach out and communicate," she says. "What I receive back is not in my control. I do what I can to involve him in our family".
Kate also admitted that John is involved in their children's lives, but not as much as he maybe should be.
"He has them two weekends a month. I wish he would see them more, to be honest. So do they. I think the important thing is that I control my reaction, my attitude and my words."
Be the first to receive breaking news alerts and more stories like this by subscribing to our mailing list.