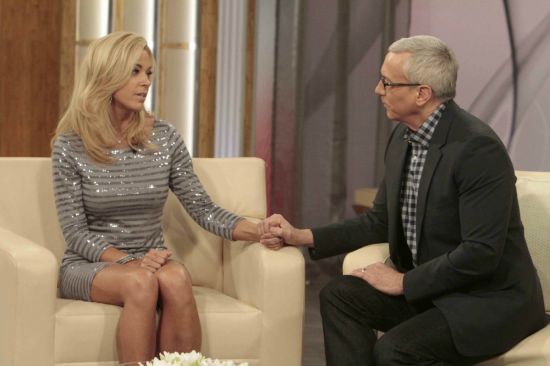 Kate Gosselin recently sat down for an interview with celebrity relationship expert Dr. Drew Pinsky on his "Lifechangers" show, where the mom of 8 broke down into tears after sadly revealing that she is "lonely."
Kate's TLC reality show "Kate Plus 8" was cancelled last year, and the 36-year-old mom vowed never to return to TV. And so far, besides a few interviews here and there, she hasn't.
But these days, Kate says she hates how lonely she is.
"I'm completely alone," she wept. "I mean, I'm so lonely. I clean up the house, put the kids to bed and there I sit."
Kate, who now works as a blogger at Coupon Cabin, says that because she's so busy, it makes it hard for her to find and maintain a love life.
"No. I'm too busy," Kate said about having having a love life. "I think a lot of my friends, who are being constructive, say, 'Gosh, who are you going to meet that is going to be able to deal with eight kids?' My answer is always if they can deal with eight kids in our situation, it probably will be the person."
But she admits, "The odds are so against me, one mom and eight kids."
Gosselin also told Pinsky that her ex husband Jon is helping take care of the children and now lives a normal life.
"He basically lives his life and I live mine. It's more peaceful," she said. "Possibly he's working now and so he feels like he's living a regular life again and maybe a little happier with himself, so that boils down to peace between us. The kids are now okay going there."
In regards to Jon's parenting, Kate said, "I feel like he's trying again. That's good. The bottom line is the kids come home basically happy and that's all that matters."
Sounds like besides her love life and the fact that she's lonely, everything going's pretty well for Kate Gosselin.
Watch a clip from Kate Gosselin's interview with Dr. Drew below:
Be the first to receive breaking news alerts and more stories like this by subscribing to our mailing list.