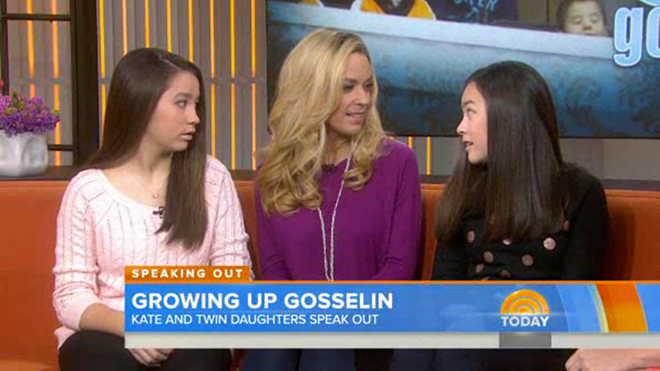 Kate Gosselin and her teenage twin daughters gave the most awkward interview on NBC's "Today" show Thursday morning.
Kate and her 13-year-old twin daughters Mady and Cara went on the NBC morning show to talk about how their lives are after their TLC reality show, which ended two years ago.
The twins' appearance on "Today" follows an interview they did with People magazine, in which they said they were were "not messed up" or "damaged," despite living in a house with 9-year-old sextuplets and being on television and under a microscope due to their mother and father's nasty, high-profile divorce.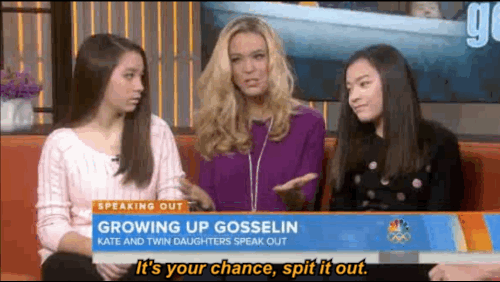 But when the live TV cameras came on, and "Today" host Savannah Guthrie prompted them with questions, the Gosselin girls went completely silent, making for one of the most cringeworthy interviews ever seen on live television.
"Mady, your words," Kate said, as her daughter struggled to come up with a response. "It's your chance. Spit it out."

When Guthrie turned to Cara, she stared blankly.

"So this is their chance to talk," the mother of eight said. "This is the most wordless I've heard them all morning. I don't want to speak for them, but, Mady, go ahead. Sort of the things that you said in the magazine. That, years later, they're good, they're fine. Go for it, Mad, it's your chance."

"No, you just said it," the child replied.
YIKES! Can you say … AW-KWARD???
Be the first to receive breaking news alerts and more stories like this by subscribing to our mailing list.