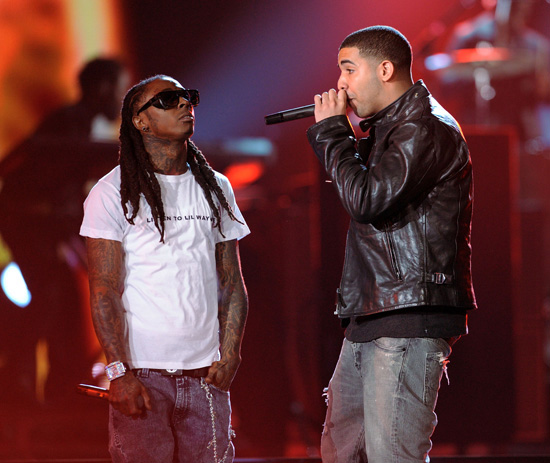 Lil Wayne surprised lucky onlookers during his "I Am Music II" Tour when it pulled into Washington, D.C.'s Verizon Center on Sunday night (Apr 3). The Young Money head honcho brought his protege Drizzy Drake and introduced his Toronto homie with a heartfelt speech.
"I know ya'll know a few months ago I was locked up and shit, but it was people like Drake and people like ya'll that made me feel like I wasn't even there, so I appreciate that shit. I really do. I just wanted you to miss me while I was gone," Weezy said before performing "Miss Me" with Drizzy.
Following the "Miss Me" performance, the Canadian rapper addressed rumors that he had left Young Money.
"You see today, when I landed in D.C. and I got offthe plane, this ni**a looked me in my eyes and he asked me, 'Did you drop out of Young Money?' And I looked him right back in his eyes and I said, 'Boy, are you out your motherfu**in' mind?!' Man, I want this shit 'Forever,'" he told the crowd to roaring applause.
Check out their performances below:
Be the first to receive breaking news alerts and more stories like this by subscribing to our mailing list.