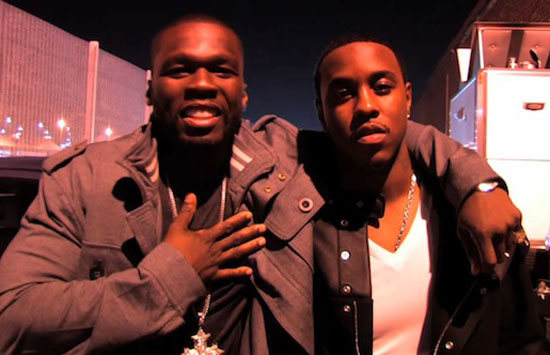 If 50 Cent didn't appear on Jeremih's hit single "Down on Me," the up and coming R&B singer would have been dropped from Def Jam. And this isn't purely Mr Jackson's ego talking …. it's the truth.
In 2010, Jeremih released his sophomore album All About You, which failed to blow up and make a strong impact. Because of this, his label was on the verge of dropping him. But luckily for the "Birthday Sex" singer, Mr. Curtis (and YouTube sensation Keenan Cahill) stepped in right on time.
Speaking on Hot 97 with Angie Martinez, 50 said:
"They was counting Jeremih out completely. He was already gon' be dropped from Def Jam before Down on Me. He was definitely gonna be in a position where he was getting dropped because the first week sales was really low on the record."
Deciding to prove his critics wrong, 50 jumped on the record purely based on Jeremih's ability rather than receiving the fat pay check that he's accustomed to:
"We did the song, I didn't care. I was just looking at him as an artist and I said he sounds good, and I thought he was a dope artist, so I said I'ma do it. And we did the song, and then it took off. It's been number one for what, five weeks now?"
We like this new nice 50!
Be the first to receive breaking news alerts and more stories like this by subscribing to our mailing list.