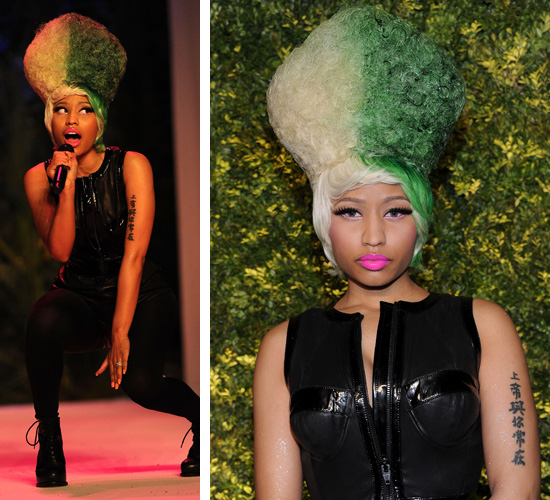 Drake and Nicki Minaj both have one man to thank for single-handedly launching both of their careers. And that one man is Hip Hop's current King Lil Wayne.
Wayne took a gamble on these two, and the gamble clearly paid off. Both artists are signed to his Young Money imprint. Both artists have dropped one solo album. And both artists' respective projects have sold over a million records.
Although both are superstars in their own right, Nicki Minaj, coming into a game dominated by males, completely tore down the gender barriers and proved that she too can hang with the big boys. Thanks in part to the driving force that is her mentor, Lil Wayne.
During her recent interview with T Cole Rachel and Interview Magazine, Nicki had this to say about  coming up under her beloved boss:
On Wayne's going to prison:
That is something that was always at the forefront of my mind. You don't have to talk about it a lot, but… it was very surreal. It's still hard to believe that that really happened. But every time I spoke to him he was so positive. He'd be on the phone and like, instead of me cheering him up it's like he's doing the opposite, he's giving me like, the words, the wisdom.

On life without Wayne's mentorship:
I don't ever want to imagine that. I can't even imagine my career, um, my creative spirit without Wayne. I credit him with a lot of what I do. Prior to him, no one relevant in hip-hop really gave me that support. I feel like I'm still intertwined with him creatively.

Before I met Wayne, the person that was spearheading my career was the one person who always told me, "Don't be too playful, don't be too kooky and weird… no one's gonna feel that, nobody wants to hear that." So I stifled a lot of that early on, and then once that we parted ways, I was like, "Guess what, I'm gonna just be me."

On gender with Wayne:
Even though Wayne is my mentor, I've never gone to Wayne and asked him, "Hey Wayne, could you write me a rap?"  That makes me just like one of the boys, you know? My work ethic is just like their work ethic, and I don't have to wait on them to tell me to what to say. And I think that's a big part of it.
Check out 10+ pics of Nicki Minaj at the "Green Auction: A Bid to Save the Earth" event Tuesday night (Mar 29) in New York City below:
Be the first to receive breaking news alerts and more stories like this by subscribing to our mailing list.