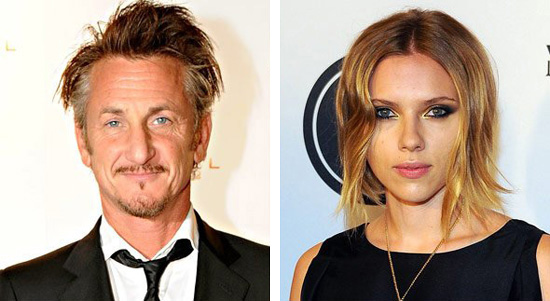 Has Scarlett Johansson already moved on from her estranged husband Ryan Reynolds?
According to recent reports, the newly single actress showed up to her friend Reese Witherspoon's wedding to agent Jim Toth (who happens to have Scarlett as a client) with actor Sean Penn on her arm, which is sparking rumors of a rebound romance. Thing is … she's still legally married to Ryan Reynolds, who she just separated from late last year. (They haven't even filed for divorce yet.)
"Scarlett is Jim's client, but no one, including the bride, knew she would have turned up with Sean Penn," a friend of Scarlett's told Rob Shuter of PopEater.com. "Turning up at a wedding with your boyfriend is definitely a huge statement, especially that wedding. What it's doing is announcing to the whole of Hollywood that they are serious."
Other celebrities in attendance for the nuptials, held at Reese Witherspoon's ranch in California Saturday (Mar 26), were Renee Zellweger, Tobey Maguire, Robert Downey Jr. and Alyssa Milano.
This isn't the first time Scarlett and Sean have been spotted out and both of their camps refuse to reveal any details or release any comments on the rumored romance. However, the couple is rumored to be planning a trip to Haiti sometime in the spring, and their appearance at Reese and Jim's wedding is said to have been their official "coming out" to their Hollywood friends.
"Scarlett is head over heals in love with Sean," a friend of the actress said. "She normally tries to hide away from public attention, but when she's with Sean she doesn't care."
Damn Scarlett! Can you divorce one before you start parading around another?
Be the first to receive breaking news alerts and more stories like this by subscribing to our mailing list.