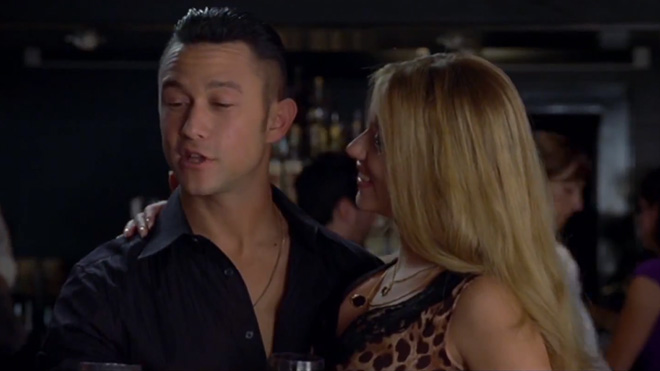 Fans who can barely contain their excitement for the soon to be released "Don Jon" are in luck! A new clip for the film, which marks Joseph Gordon-Levitt's screenwriting/directing debut, has been released via PEOPLE.
The New Jersey-set comedy stars Levitt as Joe Martello, a bartender whose main focus is picking up women (with his friends in tow), working out, going to church, and watching porn … a lot of porn. What Jon doesn't realize though is that his love of adult films has ruined his ability to form a healthy relationship with a woman.
When his romance with the high maintenance Barbara (Scarlett Johansson) shatters as a result of his addiction, he begins spending time with his night school classmate Esther (Julianne Moore). As their relationships grows, Joe is forced to confront his inability to connect with women on an authentic level.
Tony Danza, Brie Larson and Glenne Headly also star in the comedy.
WATCH THE CLIP ABOVE
This latest clip features Jon adoringly making a toast to Barbara as their friends look on following their one month anniversary. It's far less entertaining than the previous clips that have hit the web, as not much happens in the scene. We are however, given a glimpse into Jon's blind lust for Barbara or as he calls her "the most beautiful thing I've ever seen."
The clip is a followup to one that was released last month in which Barbara refuses to let Jon into her apartment after a date because she wants their friends and families to have met one another first.
Jon is clearly enraptured by the curvy blonde, but it's obvious there isn't much more to their relationship. He's simply obliging her request for his gain. After all, who feels the need to make such a bold announcement about a person they've only known for a month?
Following its debut at Sundance, "Don Jon" has earned praise from a variety of critics and currently has an 83% fresh rating on Rotten Tomatoes.
The 32-year-old actor has said that the film is a means of tackling the objectification of women at the hands of the media.
"You see a woman on the screen, and you reduce her to just a thing, a sex object," he said at a New York press conference for the film.
"That's something I've been aware of my whole life," he continued. "My mom was very much intent on making me aware that that's something that happens in the media. [She was] active in the 60's and 70's in the feminist movement, and she was always really keen to make my brother and me aware of this happening."
Joseph Gordon-Levitt & the Cast of "Don Jon" Discuss Porn, Addiction, Respecting Women
Indeed, Levitt impressively tackles the subject in the film. He makes it a point to repeatedly show the constant stream of half-naked female images we see on a daily basis in music videos, on the cover of magazines and, of course, in pornography. Don Jon, is rare in that it acknowledges the damaging effects of this.
Similarly, Barbara's obsession with Hollywood love stories has led her to have unrealistic expectations of Jon. Both characters are guilty of letting fantasy dictate how their relationships should be.
The film is one of two new releases that illustrate addiction in a light-hearted manner. Stuart Blumberg's "Thanks for Sharing," starring Mark Ruffalo and Gwyneth Paltrow, humorously explores the effects of sex addition.
"Don Jon" marks another high note in Levitt's career following impressive turns in four films last year, including "The Dark Knight Rises" and "Looper."
In a bold and refreshing move on Relativity Media's part, "Don Jon" is getting a wide release rather than only being shown in a few cities, as is often the case with smaller projects.
Don Jon hits theaters on September 27.
Be the first to receive breaking news alerts and more stories like this by subscribing to our mailing list.