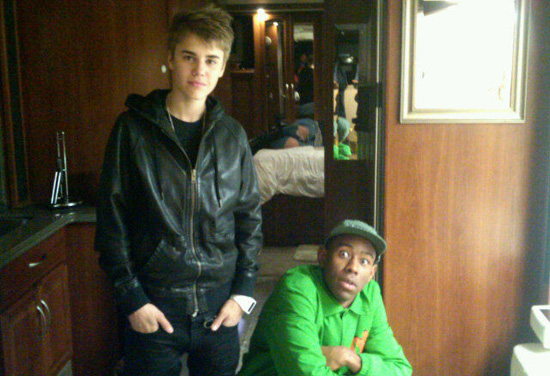 Usually "Bieber Fever" is reserved for screaming adolescent girls. But Odd Future's Tyler, the Creator proves to be quite the exception to that theory. In fact, Tyler is so enamored with the Biebster, that he has even referred to the teenage heartthrob as his idol!
When the two finally met late last month, Tyler was so excited, he tweeted:
"I WAS JUST WITH JUSITN F**KING BIEBER. F**K …. HE LIKED YONKERS, F**K."
Two photos emerged of the two together, one blurry and the other showing the teen sensations posing side-by-side. When MTV News caught up with Tyler — and the rest of Odd Future — at South by Southwest last week, he still had a huge smile on his face.
"We [were] kicking it with him for like 10, 20 minutes. He's a chill dude. First thing he was like, 'Oh, I just finished talking about your video, that sh– was crazy," Tyler said. "He just started asking me questions about my sh–, and it was kind of weird because I was going to ask him sh–. But he was intrigued enough [about] what we had going on."
Tyler also said hopes he'll get the chance to hang out with the Biebs soon so they can do hoodrat stuff together. Like egging cars and sh*t.
"I want to take him egging cars and f—ing sh– up and paintball and just go skate and go do fun sh– that I feel like he hasn't been able to do," the MC said.
Check footage of the Odd Future frontman gushing over his new bromance below:
Be the first to receive breaking news alerts and more stories like this by subscribing to our mailing list.