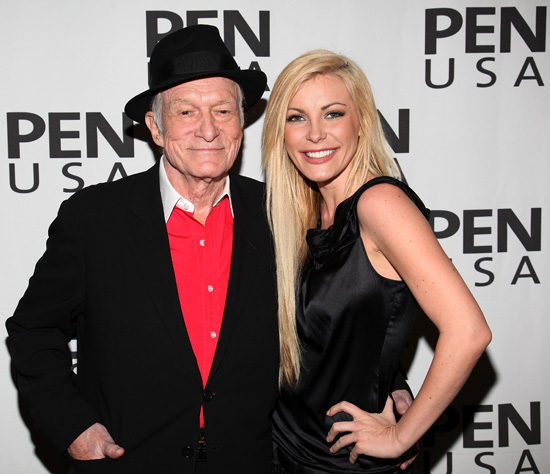 Just 3 months after announcing their engagement, it looks as though all may not be well in Playboy paradise for Hugh Hefner and his 24 year old fiancé, Crystal Harris.
Life & Style Magazine is reporting:
We watched the 24-year-old lovebirds cozy up at the Chateau Marmont in LA on March 14. While Crystal was hoping to keep their romance low-key, Jordan didn't care to hide his affections, kissing her shoulder and trying to hold her hand — still adorned with her 6-carat engagement ring. Despite Crystal's impending June 18 wedding date to the Playboy founder, sources tell us that she and Jordan are very happy together. (Source)
Jordan is the younger son of psychologist and TV personality, Dr. Phil. A source said of the alleged pair:
"They've been sneaking around because Crystal is supposed to be happily engaged to Hef. Going out in public with Jordan would tarnish Hef and Crystal's relationship image."
A Playboy rep has said that both Crystal and Jordan's relationship is strictly "professional."
The pair met through the Organica record label, where until recently Jordan worked with Crystal as a songwriter. "Jordan was let go from Organica for dating female clients under the label," the source says.

"Jordan McGraw no longer works for the label, and to the best of my knowledge, Crystal is very much in love with Hef," Michael Blakey, president of the Organica Music Group said. He adds, "Jordan and Organica departed ways amicably and are looking forward to collaborating on future projects. I can only imagine that Crystal and Jordan were together for song writing purposes." Says a rep for Playboy, "Jordan and Crystal have a business relationship."
FYI: Dr. Phil's older son, Jay (Jordan's brother) is married to Playboy model Erica Dahn.
Your thoughts?
Be the first to receive breaking news alerts and more stories like this by subscribing to our mailing list.