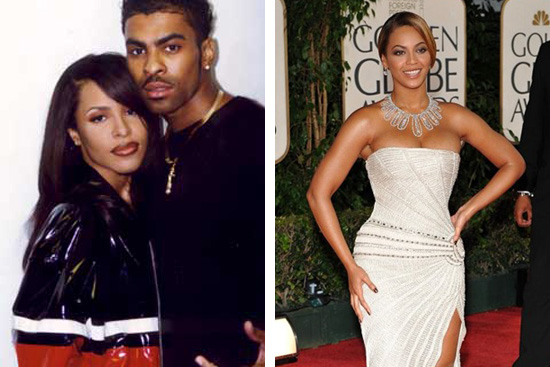 Could Beyonce and Aaliyah rival one another today as entertainers? Had Aaliyah still been alive, Ginuwine thinks so.
R&B songstress Aaliyah Haughton would have turned 32 years old back in January. After her tragic death in 2001, many female artists drew comparison to the R&B singer with fierce dance moves. However, if you ask Ginuwine, Beyonce is the artist that reminds him the most of his beloved friend.
"Aaliyah was in a class by herself," Ginuwine tells The BoomBox. "If you're talking triple threat of a writer, singer and actress, that would probably be Beyoncé. If Aaliyah were still here, she and Beyoncé would be neck and neck."
Beyoncé's career with Destiny's Child was already at the pinnacle of success when Aaliyah was alive. The trio released their self-titled debut in 1998, and Aaliyah passed just three years after that.
Both also went on to pursue careers in film alongside music. Aaliyah added actress to her resume with roles in 2000's "Romeo Must Die" and a lead role in 2002's "Queen of the Damned," which was released after the singer passed away.
Ginuwine made some pretty bold comments here. Aaliyah was good, but Beyonce is GREAT! To state they would be neck and neck is just wishful thinking.
Sorry Elgin, try again.
What are your thoughts?
Be the first to receive breaking news alerts and more stories like this by subscribing to our mailing list.