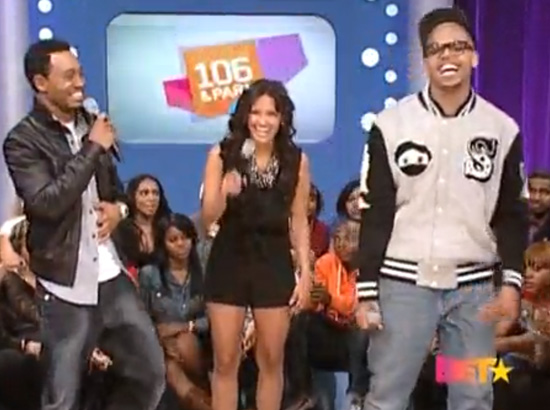 Chris Brown made his second appearance in one week on BET's "106 & Park" yesterday (Wed. Mar 23) to offer his sincerest apologies for losing his cool just the day before on "Good Morning America."
Look below for his apology:
NOTE: The apology starts at about 4:15 minutes in…
"First and foremost I want to apologize to anybody who was startled in the office, anybody who was offended or really looked disappointed in my actions because I was disappointed in the way I acted," he told hosts Terrence and Rocsi.

He went on to share his side of the story. "A lot of people don't know what went down. Obviously when I do shows and when I do interviews, we always send out a talking points sheet. And if the network isn't compliant with what we want to do, we usually kind of back out and wait until it's a better situation."

For her part, Roberts insists that the questions were pre-approved, but Chris claims he was caught off guard. "So when we actually did this event, everything was cool. The talking points were positivity and everything that was sent to me was about the album. As the interview proceeded, I was thrown off by it. I felt like they told us this just so they can get us on the show to exploit me. That's what I thought. And so I took it very, very hard."

While he maintained his cool on-air, he waited to go backstage before venting his frustration, reportedly smashing a window in a dressing room. "I kinda kept my composure throughout the whole interview, although you can see me upset. I did my performance and when I got back, I just let off steam. I didn't physically hurt anyone. I didn't try to hurt anyone. I just wanted to release the anger that I had inside me because I felt like I worked so hard for this music and I love my fans. I love to be able to make positive music, and I felt people kept just tryna take it away from me."

He urged his fans to remain positive and not direct their anger towards Roberts. "So yes I got very emotional and I apologize for acting like that, and I want to tell Team Breezy as well, if you love me, if you love the whole movement we're doing, please know that everybody is beautiful, you're beautiful, Robin Roberts… Do not send any threats because I've been hearing stuff on Twitter. We don't need that. We as a movement move as positive people. We love everybody." (Source)
Your thoughts on Chris Brown's apology?
Be the first to receive breaking news alerts and more stories like this by subscribing to our mailing list.