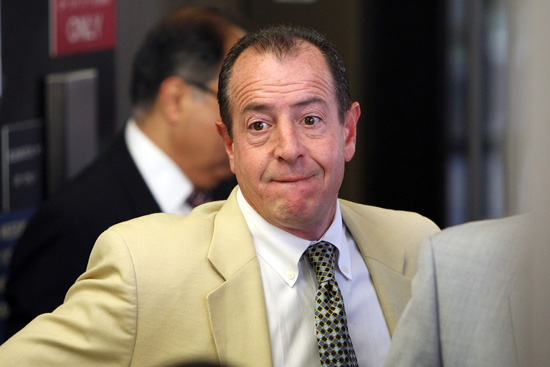 Michael Lohan was released from the hospital Tuesday (Mar 22) following his recent arrest for domestic violence.
Lohan's attorney Dana Cole revealed that his client was released by police with a citation and charged with misdemeanor battery. His bail was set at $250.
Since being released, Lohan vows to press charges against his ex, Kate Major, who was the victim of his alleged assault.
"I asked to press charges on her– Look, I'm the one who got cut, I'm the one that was bleeding!" Michael told RadarOnline.com in an exclusive interview. "I'm going to press charges against Kate and I'm going to try to have her arrested before she leaves California."
Lohan revealed that he has an appointment this week with authorities and wants Kate charged with robbery, assault with a deadly weapon, domestic assault and trespassing.
"I have to see what's missing and have her charged with robbery," he said. "I want to also have her charged with assault with a deadly weapon — she cut me with something– domestic assault and trespassing."
We don't know who's worse, this guy or his wreck of a daughter Lindsay. What a family.
Your thoughts?
Be the first to receive breaking news alerts and more stories like this by subscribing to our mailing list.