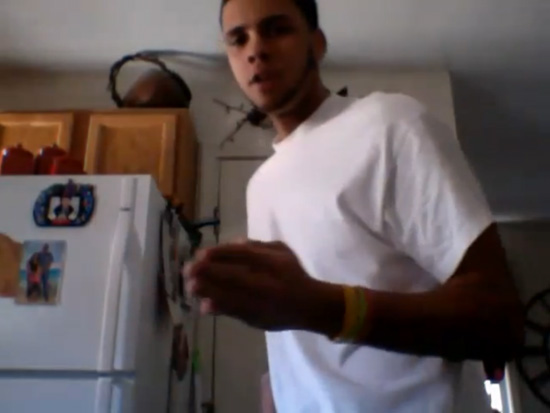 When stealing a laptop goes HORRIBLY wrong…
A laptop thief gets caught after recording a video of himself dancing to Travis Porter's "Make It Rain." (Seriously dude???)
Read the full story below:
What does it take to catch a thief? If you're Massachusetts college student Mark Bao, all it takes is a solid knowledge of technology.

After the 18-year-old Bentley University freshman's laptop was stolen from a dorm lounge in February, retrieving it may have seemed like a lost cause. Fortunately, Bao had signed up for Backblaze, an online file-backup service. When the service automatically uploaded the laptop's files online, Bao discovered that he had access to files the thief had created. And what files they were.

Bao first discovered that the laptop-snatcher had taken pictures of himself on the computer's webcam. "Wow. The first thing that MacBook thieves do REALLY IS take pictures on Photo Booth. I didn't think they were that dumb!" he wrote on Twitter.

Then he discovered something even more hilarious: A video the thief had recorded of himself dancing to "Make It Rain."

From there, Bao was able to access the laptop's Internet history to find the thief's identity on Facebook. (He turned out to be a fellow Bentley student.) But instead of going to the police, Bao instead went for "serious lulz," uploading the video to YouTube.

The perp, aware that the game was up, turned the laptop in to the police, and sent Bao a message on Facebook, apologizing and asking Bao to take down the videos. Bao says that's not likely: "He's not in a position to bargain."
Check out the video of the perp dancing to "Make It Rain" and his message apologizing and asking Bao to take the videos down below:
We don't feel the least bit sorry for this guy….next time he will think twice before stealing somebody's expensive a** macbook. Karma is a ……….  (we'll let you finish that one)
What do you think?
Be the first to receive breaking news alerts and more stories like this by subscribing to our mailing list.