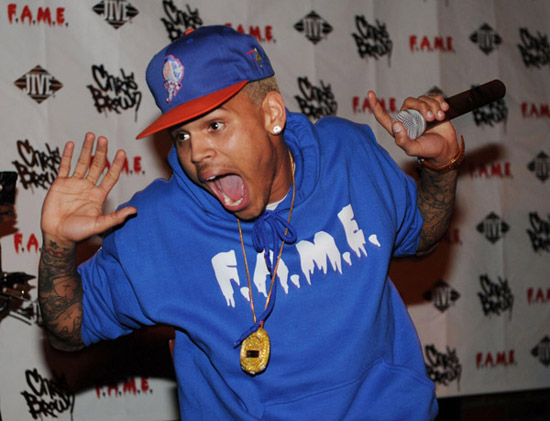 Earlier this month, as Chris Brown was prepping for the March 22nd release of his new album F.A.M.E., naked photographs of the "Look at Me Now" singer leaked onto the Internet.  A clearly salty Brown quickly took to Twitter, where he tweeted the following post before removing it: "WTF!!! Here we go!!!"
On Friday (March 18), Chris stopped by MTV News for a brief sit-down where he explained what really bothered him about the leaked nudes.
"Let me be honest with you. I didn't want to put no pictures out; that's not my intention. A lot of people were saying, 'Yo, he leaked the pictures, he was trying to get promotion,' " the singer said. "For me, I was always a singer, so unless I'm planning on trying to do porn, I don't think I'd want to just leak my wang out to the world before my album comes out."
While leaking photos might be the only way of garnering promotion for some, Chris was bothered that critics would accuse him of deliberately passing along provocative pictures for publicity's sake.
"It was disappointing to me that it was out, because I was like, 'Man, now it's gonna [look like] a gimmick behind it,' " he said of the pre-release push for his album. "And I don't want a gimmick behind anything that I'm doing."
Brown also spoke on whether or not the the experience would make him more cautious with his iPhone in the future
"Nah, I'm just living life, I'm just gonna have fun," Brown said, adjusting his Billionaire Boys Club knit cap. "At this point, there's no more insecurities with me. Everything's out on the table. You've seen everything! Also, as an artist I'm free with my music. I get to talk about the subjects I want to talk about and also reach people. So I'm just gonna live my life, man. There's nothing to be upset about, nothing to be angry … where I'm at creatively and mentally is great so I'm not gonna let anybody or any naysayer or hater mess that up," he said before adding with a toothy grin, " 'cause there's no point, I'm … winning!"
Check out footage of Breezy's one on one below:
Be the first to receive breaking news alerts and more stories like this by subscribing to our mailing list.