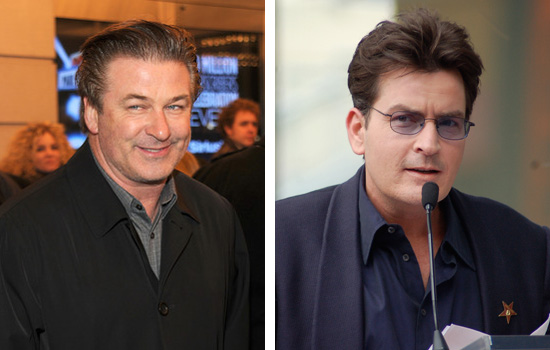 Alec Baldwin had some words of advice for troubled "Two and a Half Men" actor Charlie Sheen.
In a recent editorial in the Huffington Post, the "30 Rock" actor advised Sheen:
"You can't win. Really. You can't. When executives at studios and networks move up to the highest ranks, they are given a book….'How to Handle Actors.' And one principle held dear in that book is that no actor is greater than the show itself when the show is a hit.

"You know what you should do? Take a nap. Get a shower. Call Chuck. Go on Letterman and make an apology. Write a huge check to the B'Nai Brith. And then beg for your job back.

"Your fans demand it. You will never win, because when you are as big a douchebag as some of these guys are, they have no choice but to snuff you." He adds, "Do you secretly want to get snuffed? So you can go back and make movies?"
So what does he advise Charlie's next step to be?:
"Sober up, Charlie. And get back on TV, if it's not too late. This is America. You want to really piss off Chuck and Warner Brothers and CBS? Beg for America's forgiveness. They will give it to you. And then go back. You are a great television star. And you've got the gig.

"P.S…Buy Cryer a really nice car."

Source: Huffington Post
Sounds like some pretty good advice to us. Too bad Charlie ain't lookin for ANYBODY's advice. He's too busy being the king of all the warlocks!
Thoughts?
Be the first to receive breaking news alerts and more stories like this by subscribing to our mailing list.