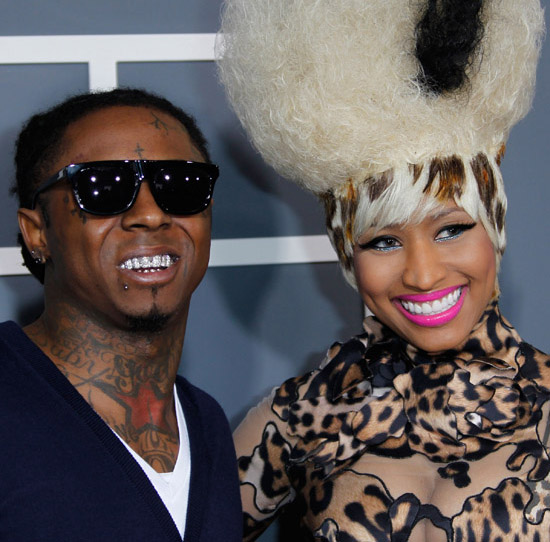 Nicki Minaj must be the happiest girl on the planet right now! Why, you ask? Well, she will be joining her Young Money boss, Lil Wayne, on his upcoming 2011 tour. That's why.
This is a come up for the Pink Friday rapper compared to 2 years ago when she was on Wayne's "I Am Music Tour" and didn't even get to bat an eyelid before she was off stage.
In an interview with MTV News Minaj explained:
"Oh my God, I'm very excited to be touring with Wayne. The last time I toured with Wayne I was onstage for three minutes. Now I have my own set, I have my own lighting, my own costumes, my own dancers, my own everything. And this is what I've been praying for a very long time."
So what does Weezy think of his bright pink star? Earlier this month he said:
"I can't front, I just thought she was going to be the new female MC that none of these other female MCs can touch. But now, she's blossomed into a megastar with this new attitude and this style. Now when I talk to her, I just tell her, 'Do what you do, baby.' I used to be able to go into the studio and say, 'Nah, don't say that, don't say that.' You know, 'That was better.' Now, do what you do, baby. I don't have a clue about what you're doing right now, but it's working, do it."
Fellow artists Travis Barker, Rick Ross and Mixmaster Mike will be joining Nicki and Wayne the 24-city tour, which opens next Friday night (Mar 18) in Buffalo, NY and will include stops in Chicago, Cleveland, Philadelphia, Houston, Atlanta, D.C., Miami and more.
Peep the official dates below:
3/18 – Buffalo, NY @ HSBC Arena
3/19 – Columbus, OH @ Nationwide Arena
3/20 – Baltimore, MD @ First Mariner Arena
3/23 – Hampton, VA @ Hampton Coliseum
3/24 – Cleveland, OH @ Quicken Loans Arena
3/26 – Philadelphia, PA @ Wells Fargo Center
3/27 – Long Island, NY @ Nassau Coliseum
3/30 – University Park, PA @ Bryce Jordan Center
4/1 – Chicago, IL @ United Center
4/2 – Auburn Hills, MI @ The Palace of Auburn Hills
4/3 – Washington, D.C. @ Verizon Center
4/6 – Miami, FL @ Bank Atlantic Center
4/8 – Greensboro, NC @ Greensboro Coliseum
4/9 – Atlanta, GA @ Philips Arena
4/10 – St. Louis, MO @ Scottrade Center
4/14 – New Orleans, LA New Orleans Arena
4/15 – Dallas, TX @ American Airlines Arena
4/16 – Houston, TX @ Toyota Center
4/19 – Phoenix, AZ @ US Airways Arena
4/23 – Anaheim, CA @ Honda Center
4/24 – Oakland, CA @ Oracle Arena
4/26 – Sacramento, CA @ ARCO Arena
4/28 – Edmonton, AB @ Rexall Place
4/29 – Vancouver, BC @ Rogers Arena
Will you be checking out Nicki Minaj and Lil Wayne on tour?
Be the first to receive breaking news alerts and more stories like this by subscribing to our mailing list.