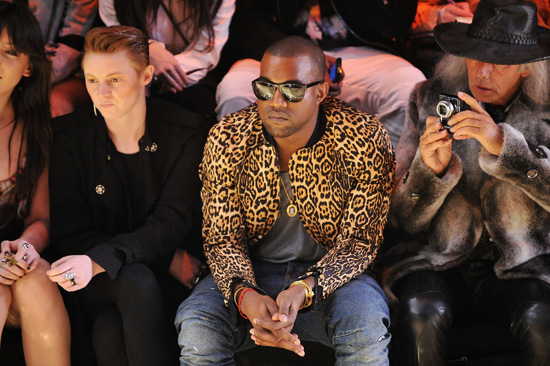 Believe it or not, there are a few places in this world that even Kanye West can't get into. Paris Fashion Week being one of them.
According to published reports:
Hotheaded rapper Kanye West got shut out of several runway shows at Paris fashion week after turning up uninvited.

Though the fashion-obsessed rapper attended Valentino, Givenchy and Vivienne Westwood shows this week, he was not invited to Alexander McQueen, Balmain and Louis Vuitton, and defiantly faced off with organizers several times — most of them unsuccessfully– for access.

Last Thursday, West tried to get into the Balmain runway show at Le Grand Hotel, but was denied entry with his entourage. A source said he then snuck off to "a separate part of the hotel, so people didn't see him" after he was rejected.

A rep for Balmain show organizer KCD explained to Page Six, "Mr. West requested to attend and we let him know we would not be able to accommodate him. He chose to come to the door anyway and we kindly let him know we could not accommodate him."
One could simply chalk up this slight as a probable mix-up, but 'Ye found out that clearly was NOT the case when it happened again the following Tuesday:
On Tuesday, West tried to get into the McQueen show. "He did not make a request to attend, but he came uninvited," said the rep for KCD, which also ran the McQueen show. West was eventually let in through a side entrance by "venue management, not through the front door," snipped the rep.

Some fashion insiders wondered if West also was booted from the Vuitton show, where Kate Moss walked while smoking a cigarette. Sources said he wasn't on the list and didn't reach out for an invitation — odd considering he designed a shoe line in collaboration with Vuitton designer Marc Jacobs in 2009. A Vuitton rep would say only, "Kanye remains a great friend of the house."

Sources said organizers are tired of celebrities showing up uninvited and expecting VIP treatment. The KCD rep told us, "Kanye has been a welcome guest at several events that KCD has managed over the years. Several designers chose to have smaller shows this season and therefore chose to not invite celebs in order to accommodate press and buyers."

Source: NY Post
Damn, no love for Yeezy? Those organizers had to have been Taylor Swift fans!
What do you think?
Be the first to receive breaking news alerts and more stories like this by subscribing to our mailing list.