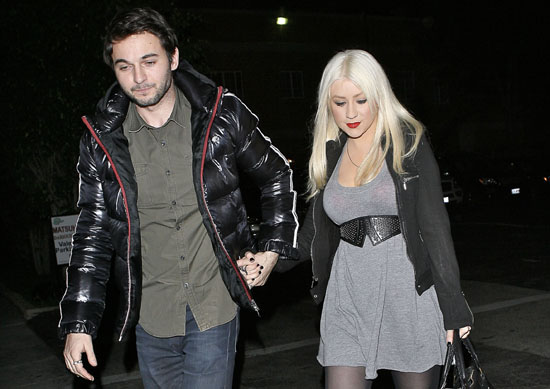 This is another Charlie Sheen story waiting to happen…
According to  Us Weekly, on March 4th, just three days after her wine filled outing led to her very public intoxication arrest, 30-year-old pop sensation Christina Aguilera, and her new boy toy Matthew Rutler, were back at Osteria Mozza, the L.A. eatery the two were drinking at moments before getting  hauled off to the slammer.
And once again they were there guzzling down bottles of wine. Two to be exact.
"She acted as if the arrest never happened," a Mozza source tells Us. "When their server offered them dessert, they asked for more wine." When it was time to leave, "She seemed tipsy," the observer notes.
Luckily for these two, the pair smartened up this time around, and went home via chauffeured limo.
Speaking on Christina's seemingly downward spiral, one insider did go on to point out:
"She should see the arrest as a wake-up call, but she doesn't. She doesn't think things are that bad."
She doesn't think things are that bad, eh? We're pretty sure she's aware things are "that bad." After her Super Bowl debacle, her recent arrest, and Bionic's TERRIBLE album figures, how could she not?
Your thoughts?
Be the first to receive breaking news alerts and more stories like this by subscribing to our mailing list.