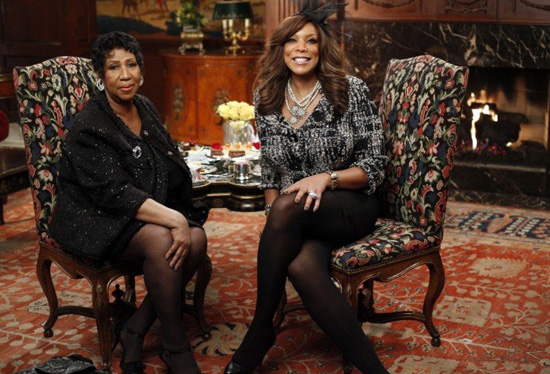 Aretha Franklin is opening up about her recent weight issues. The 68-year-old music legend recently sat down for an interview with Wendy Williams and disclosed details regarding her losing 85 pounds, her new diet and more.
She revealed that any food smothered in hot sauce is "off the menu now" and said that she will no longer eat pig feet and other unhealthy meals. The Queen of Soul also spoke on what exactly made her decide to switch up her diet.
"I've been looking at a lot of pictures, and I was saying [to myself], 'You were entirely too fat for words,' " the 18-time Grammy winner said with a laugh. I was doing everything you could to lose that weight, and it's hard," she said. "It's just really hard. [But] you can't continue eating things that will hurt you eventually."
Franklin just recovered from a surgery back in December, and although she did not specify what the problem was, she acknowledged her current health status, which she says is pretty good right now.
"A lot of things were said," Franklin noted of the widespread rumors about her health (most pervasive: that she was battling pancreatic cancer). "I left that behind," she added. "And I couldn't be feeling any better than I'm feeling right now."
Sure is good to see the Queen of Soul back on her feet and feeling good!
Your thoughts?
Be the first to receive breaking news alerts and more stories like this by subscribing to our mailing list.