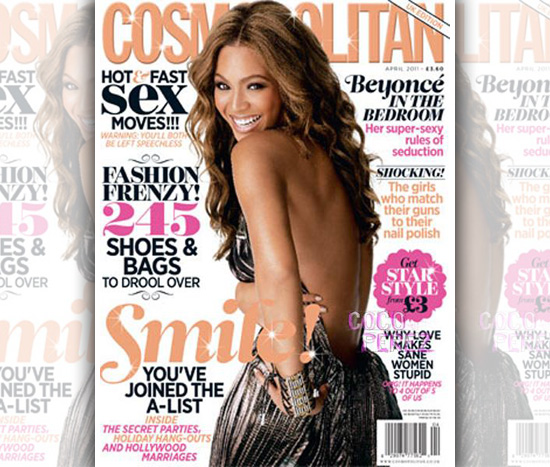 Beyonce strikes a pose on the cover of the April 2011 edition of UK Cosmopolitan Magazine. Inside the issue, the R&B/Pop diva shares how she gets sexy for her rapper husband Jay-Z, her guilty pleasure, starting a family and more.
Peep a few excerpts below:
On how she likes to get her sexy on:
"Put on good music and something that makes you feel great. I love a pair of high, sexy stilettos with a beautiful dress. You can be beautiful but if you're not secure in yourself, you don't come across as sexy."

On her guilty pleasure:
"I love my butter pecan ice cream, but I also love to work out. We all have our issues. Mine is arms and legs, keeping them tight and toned. It takes work, believe me."

On whether she'll start a family:
"Yes, I do want to embrace what happens next and family. It's funny how your outlook changes as you get older, how you look at life – at other women – in a different way. I have so much admiration for women who are mothers, who balance family and work."

On what she did on her well deserved break:
"I did all these things I wanted to do that I don't have time for. I set up a production company, learned how to edit, did a bit of recording and directed a Dvd. What was great was having this normal life of sleeping, getting up, going to an office and then coming home. Coming home is a wonderful thing…I even did some cooking, although I didn't really enjoy that. I'm not the greatest cook – I can do good things with oxtail, though. It was great just having the time to be a wife rather than this non-stop traveling career girl."
Sidenote: SMH @ Cosmo UK for using a picture from 2005 on a 2011 cover!!!
Your thoughts?
Be the first to receive breaking news alerts and more stories like this by subscribing to our mailing list.