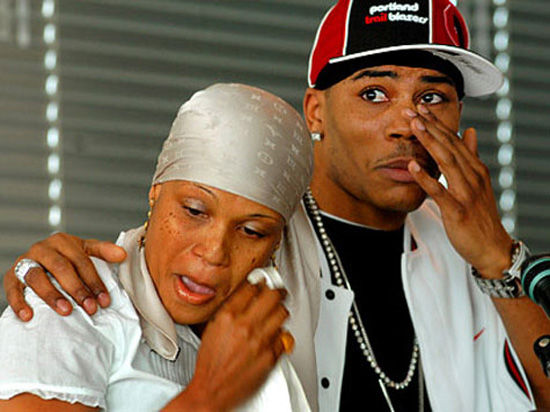 In a rare emotional interview for VH1's "Behind the Music" special (airing March 7th at 10pm), St. Louis rapper Nelly opens up about the 2005 death of his sister Jackie. In a painful recollection leading up to the passing of his sister, the Grammy Award winner described in detail what happened:
"Nobody wanted to tell me how severe and how close things had gotten," Nelly says. "She wasn't telling me the truth, and everybody around her that knew wasn't telling me that, 'Yo, she's not gonna make it".
So one day, Nelly called his sister and talked with her for almost a half an hour. Unfortunately for Nelly, unbeknown to him, that would be the last time he got to speak to Jackie. He recalled:
"She gets off the phone and she lays down and she's gone. They said the only thing that kept her alive was that she wanted to talk to me before she left, and I was enraged," continues Nelly, who was so distraught that he destroyed a door and a TV. "I just broke down. In one of the rare moments, I did cry."
Jackie was diagnosed with Leukemia in 2003. In a bid to raise awareness about the need for bone marrow donations in the African American community, Nelly founded a non-profit organization called 4Sho4Kids along with Jes Us 4 Jackie campaign. Jackie lost her battle with Leukemia in 2005.
Spotted @ Rap-Up
Be the first to receive breaking news alerts and more stories like this by subscribing to our mailing list.