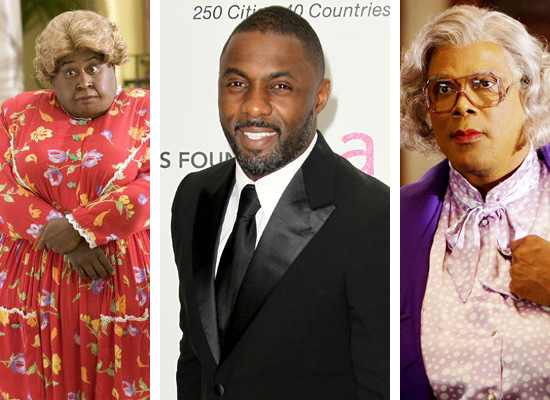 Widely known for his role as Stringer Bell on HBO's "The Wire," British actor Idris Elba says that he isn't a fan of "buffoonish characters like Madea of Big Momma."
The "Daddy's Little Girls" actor was recently invited to speak at Rutgers University, and when asked on his opinion on the Spike Lee vs. Tyler Perry debate, Idris said:
"Can I be candid?" he asks before turning to face the audience directly. "I don't like all of Tyler Perry's films. Yes, I did work with Tyler for 'Daddy's Little Girls' because it portrayed a positive image of a black father. I am happy for Tyler's success…we need Tyler Perry…by going to support his movies, we need to show economic strength. But we are also responsible for elevating film. I'm not with buffoonish characters like Madea or Big Momma."
Idris also offered his candid thoughts on the lack of diversity amongst Golden Globe and Oscar nominees.
"Halle Berry and I were the only two black actors nominated for this year's Golden Globes (Idris for Luther and Halle for Frankie & Alice). The Oscars aren't designed for us…let's focus on making more films." (Source)
Idris Elba sounds like a pretty intelligent guy! Though it's safe to say that we don't think Mr. Elba will be working with Mr. Perry (or Mr. Lawrence) anytime soon…
Thoughts?
Be the first to receive breaking news alerts and more stories like this by subscribing to our mailing list.