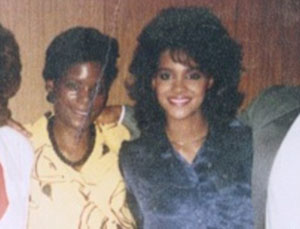 It seems like these days Halle Berry isn't too big on family reunions. Well, at least that's what Berry's estranged half sister would lead you to believe.
Renee Berry, Halle's older sister on their father's side , alleges thats the Hollywood actress "does not want anything to do with [her]" and appealed for the "Monster's Ball" star to let "bygones be bygones."
According to Renee, the OSCAR award-winning actress hasn't spoken to her sibling in five years and Renee says she cannot for the love of her understand why.
The older Berry sister told the UK's Daily Mirror:
"I'm sad to say it seems like she does not want anything to do with us. I have not spoken to her in about five years. I tried to contact her through her website, to congratulate her on her Oscar, but no one got back to me".
Renee also went on to reveal that Halle has cut herself off from her brother Anthony, despite the fact that the pair were extremely close  just a few years ago. Halle has recently been  entrenched in a very public custody battle for her daughter Nahla, something that Renee says has been extremely painful for all of the family to watch.
"We are desperate to understand why Halle is so upset, why she feels she cannot be with us," Renee pleaded. "Halle will always be my baby sister…It is sad because our grandmother Cora, who died in 2003, did not raise us to be apart like this".
Whoosh. Seems like Halle got a little bit of money and started acting real funny!
Thoughts?
Be the first to receive breaking news alerts and more stories like this by subscribing to our mailing list.