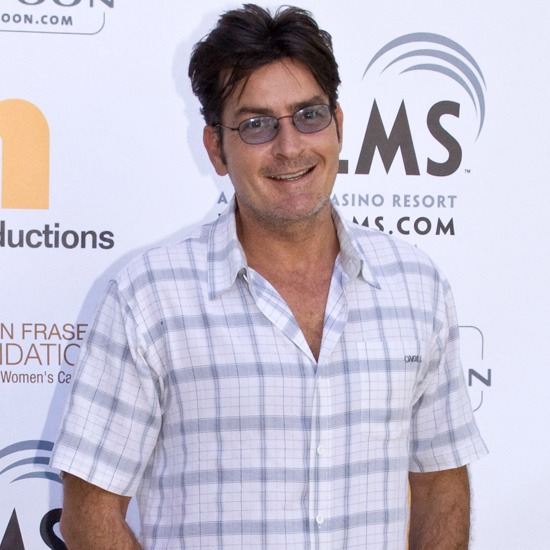 Following Charlie Sheen's hilariously offensive rant on the radio about his "Two and a Half Men" bosses, CBS has decided to shut down production on "Men" for the remainder of the season. But Sheen's rant isn't the only reason CBS has decided to pull the plug on the hit comedy series.
Apparently, the actor, who says he's having a "grand old time" in the Bahamas, reached out to TMZ and challenged "Two and a Half Men" creator Chucke Lorre to a fight in an octagon. And we are so not joking.
Peep his outrageous comments (along with CBS' official statement announcing the shut-down of the show) below:
Charlie Sheen tells TMZ … he wants to fight "Two and a Half Men" creator Chuck Lorre in an octagon … and, according to Charlie, "If he wins, then he can leave MY show!"

Charlie said, "I violently hate Chaim Levine (Chuck Lorre). He's a stupid, stupid little man and a p**sy punk that I'd never want to be like." Charlie adds, "That's me being polite."

Charlie is scoffing at all the people around him, saying, "All these guys told me to 'clean it up.' Well this is me cleaning it the f**k up."

Charlie, who insists he's sober, says, "All I want is to bring my family together, and I have to deal with all this B.S. politics."

And as if that's not enough, Charlie says "That piece of s**t [Lorre] took money out of my pocket, my family's pocket, and, most importantly, my second family — my crew's pocket."

Charlie adds, "You can tell him [Lorre] one thing. I own him."
So we guess that was the straw that broke the camel's back because CBS responded to Sheen's outburst with a statement of their own, which officially announced that the rest of the 8th season of "Two and a Half Men" is NOT going down.
"Based on the totality of Charlie Sheen's statements, conduct and condition, CBS and Warner Bros. Television have decided to discontinue production of Two and a Half Men for the remainder of the season."
There you go, Charlie! You let your mouth overload your but and now your show has pretty much been canceled. Are you happy now?
Your thoughts?
Be the first to receive breaking news alerts and more stories like this by subscribing to our mailing list.