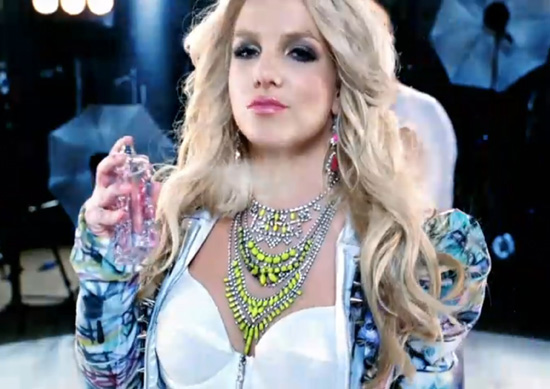 Apparently….getting your products strategically placed in a Britney Spears music video does NOT come cheap! Hit the link below to find out how much the Pop diva made off her new video.
Various sources are reporting that Miss Spears made a whopping $500,000 for product placement in her latest video for her single "Hold It Against Me." Items by Make Up Forever, Sony, dating site Plenty of Fish and Spears' own perfume, Radiance were seen in the video.
However, one artist in particular is frowning upon the blatant product placement. Fellow Pop star Katy Perry took to Twitter to have her say.
"do it w/style & grace…Not so in ur face like some. U hv to get creative w/it. Some artists don't care tho, & u can tell," Perry tweeted after the video's premiere
We know who's not complaining about the "in your face" product placement though. According to TMZ, PlentyofFish.com forked over 6 figures to feature their site on Brit's computer during the video and, as a result, saw a 20% traffic spike the day after the video premiered!
Your thoughts?
Be the first to receive breaking news alerts and more stories like this by subscribing to our mailing list.