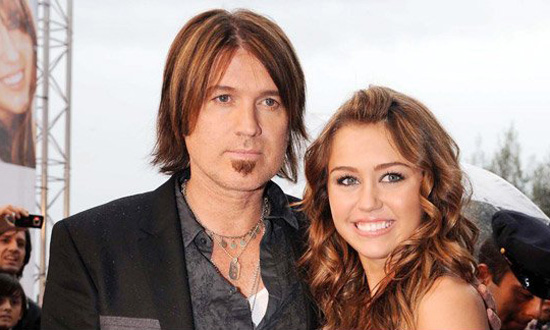 Miley Cyrus ain't playing no games when it comes to keeping daddy Billy Ray's mouth shut!
Just last week we reported that Miley was "furious" with her father over what he said in a recent interview with GQ Magazine, and more recently, the 18-year-old actress/singer has reportedly forced Billy Ray cancel an upcoming appearance on "The View."
"When Miley found out her father was scheduled to appear on 'The View' on Wednesday she went nuts," a family friend tells Pop Eater. "Only last week, Billy shot his mouth off in GQ, and now he planned to sit down with [Barbara and Whoopi] and talk more crap about his family. No way would Miley or her team let that happen."
In the GQ interview, Billy candidly opened up about his deep concern for his daughter Miley Cyrus and how Hannah Montana "destroyed" his family. And now Miley is pissed. REAL PISSED.
"At first Miley defended her dad, wanting to believe he had been tricked into saying bad things by the magazine," an insider with knowledge of situation tells Pop Eater. "Miley truly wanted to give her father the benefit of the doubt, goodness knows she's said things she wishes she could take back. But after she found out about his media trip to New York, no more excuses could be made."
Billy Ray's reps confirmed that his trip to NYC has been canceled for now.
Can you just imagine how the conversation went when Miley let Billy Ray know that the interview wasn't going down?
Miley: "Dad. You are NOT doing that interview with The View!"
Billy Ray: "Miley, now you listen here. I am YOUR father, and a grown a** man. I will do whatever I want!"
Miley: "Fine. Be a grown man and get off my payroll! Then you can do all the interviews you want. :)"
Billy Ray: "Hello? Barbra? About that interview…"
Thoughts?
Be the first to receive breaking news alerts and more stories like this by subscribing to our mailing list.