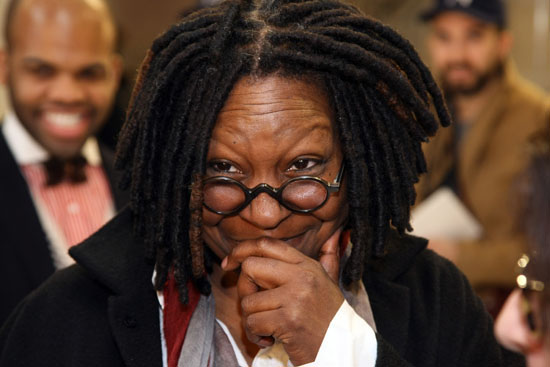 Whoopi Goldberg has apologized to the New York Times after going off on them earlier this week for not name dropping her in an article titled "Hollywood's Whiteout" where they addressed a lack of diversity at this year's Oscars (i.e. they didn't nominate ANY black actors/actresses).
Goldberg, who won an Oscar for her role in the movie "Ghost" (1990), wasn't mentioned in the article, which prompted her to take a stance earlier this week on "The View," calling the article "sloppy journalism." And though the popular newspaper has yet to issue an apology (and they probably won't), Goldberg took it upon herself to issue one of her own yesterday on "The View."
"I said that I felt the reporting was shoddy and for that I'm going to apologize," Goldberg said on "The View" on Wednesday (Feb 16). "I personally found the article really confusing, and as I said, I was also quite hurt that Cuba Gooding Jr., Louis Gossett Jr., and myself were not included in this expose about black Hollywood. But for saying it was shoddy reporting, I apologize, New York Times."
The NY Times released a statement Monday (Feb 14) clarifying the message their piece was presenting. Goldberg wasn't mentioned because she won her Oscar more than a decade before the time period that the authors were focusing on.
"The error lies with those who are reading the story incorrectly. The point of the piece was not to name every black actor or actress who has been awarded an Oscar, it was to draw a comparison between the number who won prior to 2002 (the year Halle Berry and Denzel Washington won) and those who have won since. And the story states very clearly that in 73 years, prior to 2002, only seven black actors/actresses won Oscars."
Other Oscar winners not mentioned in the article were Louis Gossett Jr. (who won his in 1982) and Cuba Gooding Jr. (who received his trophy in '96).
Do you think Whoopi Goldberg jumped the gun and over-reacted a bit?
Be the first to receive breaking news alerts and more stories like this by subscribing to our mailing list.