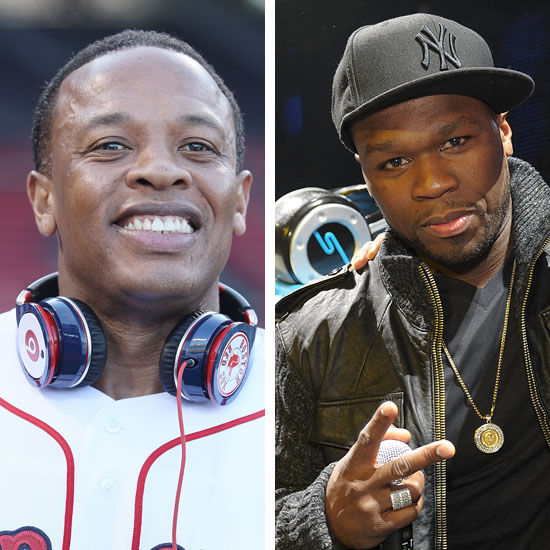 Are Dr. Dre and 50 Cent seriously beefing over headphones?
As we all know, rapper/producer Dr. Dre has had a deal with Monster to produce a line of headphones called "Beats by Dre," which has spawned other lines from other Interscope artists including Lady Gaga and Diddy. And just last month, 50 Cent inked a deal with a rival company named Sleek with plans to release his own line of headphones under the name "Sleek by 50." (Sound familiar?)
Well, apparently, neither Dr. Dre nor Interscope chairman Jimmy Iovine are happy about 50 Cent coming out with his own headphones that will directly compete with Beats by Dre.
So, in true 50 Cent fashion, the controversial rapper to Twitter and aired all of his grievances towards his former label mate and boss (50 was once signed under Interscope when Eminem — Dr. Dre's protege — first introduced him to the rap game).
"I guess I'm not going to be on detox lol," 50 Cent started. "Jimmy Iovine and Dre mad at me cause I'm doing sleek by 50. I don't get it, when they did [their] deal I didn't get upset. Now I'm mad they didn't put me or EM in that deal. F*ck this sh*t I QUIT," the rapper continued.
Now Dr. Dre has responded and even threw a little shade at 50 Cent's new line of headphones. When asked by TMZ about the "beef" between himself and fiddy, Dre brushed it off COMPLETELY, saying:
"I never heard of his headphones."
OUCH!!!! Did the Doc just fire off some shots? Sure does sound like it!
Thoughts?
Be the first to receive breaking news alerts and more stories like this by subscribing to our mailing list.