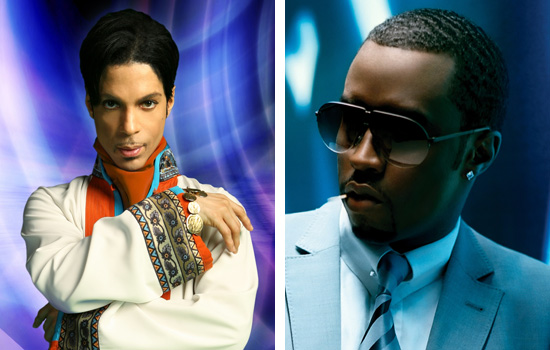 Apparently, Prince is VERY picky when it comes down to who gets to chill with him in VIP!
In fact, the Purple One is so picky that he (allegedly) didn't even want Sean "Diddy" Combs hanging out with him in his private area at a recent industry event.
Peep the details below:
Earlier this week, the music legend and the Hip-Hop mogul were sitting in VIP booths adjacent to each other as they watched Janelle Monae performed as the guest of honor at Essence's Black Women in Music event at the Playhouse nightclub in Los Angeles.
(Sidenote: Janelle Monae, who is signed to Diddy's Bad Boy record label, is also good friends with Prince, and performed as an opening act for one of the singer's recent concerts at Madison Square Garden in NYC.)
According to a source at the Essence event, as Janelle Monae hit the stage, Diddy (who co-hosted the bash) and Prince both stood, and that's when Diddy proceeded to approach Prince (who had a velvet rope surrounding his VIP area) and gave him a quick handshake and a hug. And that was that.
The insider at the event told the NY Daily News that "You could see that Diddy wanted to hang out, but Prince was very cold. He didn't have his security take down the velvet rope," so that Diddy could actually sit down and join Prince's private party.
Eventually, our source adds, Diddy returned to his table and "his Ciroc,"a reference to the brand of vodka that the hip-hop tycoon shills.

Prince's camp declined to comment for this story, so it's unclear why the fuchsia-loving funkster gave Diddy the cold shoulder. According to one music-industry insider, though, Diddy "isn't Prince's kind of guy,"says the source. "He's a lot of flash and dash, and very bragadocious. Prince, believe it or not, is real down to earth. He isn't about all that flossing."

Despite Prince's outrageous fashion and lyrics, the pomp and precision of his Garden gigs show that like James Brown before him, he is one of the hardest-working men in showbiz. Combs works hard too, though mostly at self-promotion.

Diddy's spokeswoman responded: "There is absolutely no truth to this," added that the two men "greeted each other."

Source: NY Daily News
Well if both Prince's AND Diddy's people say there's no beef, there's no beef. But why the cold shoulder here lately, Prince?
Your thoughts?
Be the first to receive breaking news alerts and more stories like this by subscribing to our mailing list.