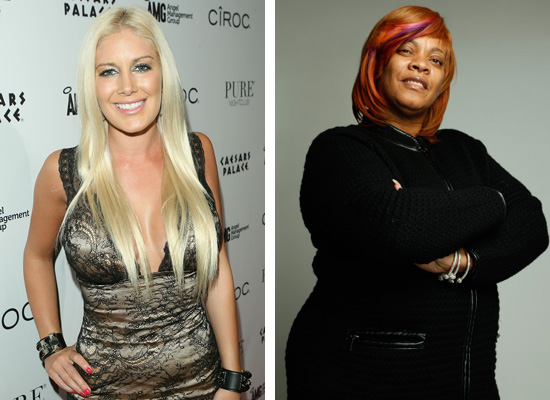 No, your eyes are NOT deceiving you! The headline is 100% correct.
Heidi Montag says she spent $2 million dollars on a music career that tanked, and now, according to a new exclusive interview the reality TV star had with Radar Online, Montag believes that she's been given a second chance to fulfill her dreams of being a Pop superstar.
In a move sure to make eyebrows raise up like gas prices, the aspiring 24-year-old singer says that she has hired Mizey Entertainment CEO Debra Antney (rapper Waka Flocka Flame's momma) as her manager! And that's not even the craziest part about all of this. Montag says that her husband Spencer Pratt is in the studio making tracks with Flocka!!!
We couldn't make this stuff up if we tried, people…
Read more below:
"Spencer is going into the studio with Waka Flocka Flame and Wooh Da Kid, and I requested that his mother Deb Antney meet with me and manage me, because she is just fabulous," Montag said. "I spent $2 million on my music career, and it didn't happen for me, and now I have this opportunity."
Antney has managed the careers of Gucci Mane, her son Waka Flocka and the hottest female rapper in the game right now Nicki Minaj. And even though Deb no longer manages Nicki Minaj, Montag still feels like she's in good hands.
"I need her to guide me in the right direction and I know amazing things will happen because she really knows what she is doing," Montag said. "I've never been able to be the true Heidi, and now that I am not working on The Hills, I can really focus on this."
Radar Online has confirmed that the deal is 100% legit, and Deb has already agreed to meet with Heidi.
"While Spencer is working with Waka Flocka, I'm going to do some tracks with Eric Nolan Grant," Montag said, excited to have the opportunity to work with the jazz singer. "We are meeting in the studio on February 21st through February 24th, and I am so excited. I want to make my own niche in the music world, that's just Heidi. It could be a Pink meets Britney Spears."
The sad part about all of this? Heidi and Spencer are DEAD serious about all of this! And we wouldn't even be surprised if they had a reality show in the works that will cover all of this.
What do you think?
Be the first to receive breaking news alerts and more stories like this by subscribing to our mailing list.