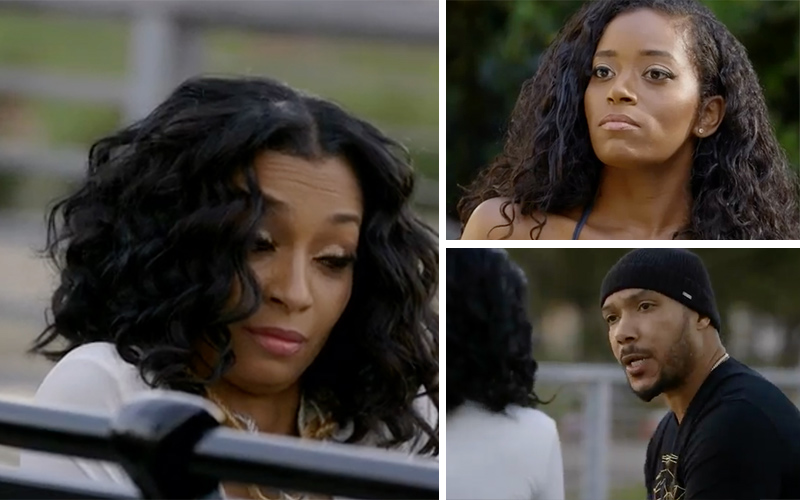 Just when Karlie Redd thought her troll life was about to get upgraded to Cinderella status, she gets hit with a nasty, unexpected rude awakening. The fine folks over at Love & Hip Hop Atlanta left us with a cliffhanger on the last episode of LHHATL as we left Karlie Redd and Lyfe Jennings on that bench in L.A. where Lyfe broke out the box with a ring in it.
Karlie's overacting ass pretended to faint and threw herself off the bench. I hope she hired a stunt woman for that bullshit cause it was so damn extra.
So we start episode 14 with Karlie looking dazed and confused as she dusts herself off and bats her eyelashes ready to receive her proposal from Lyfe. But unfortunately, this ring is a "promise ring," a promise ring from Lyfe swearing that she'll never find another man like him.
"I promise you that you not gon' never find another n**ga like me. You can keep this, but you can't keep me. I can't do this man," said Lyfe as he walked off.
To say Karlie was stunned is an understatement. But her shock didn't prevent her from chasing that man, barefoot, across the park as she demanded answers from him.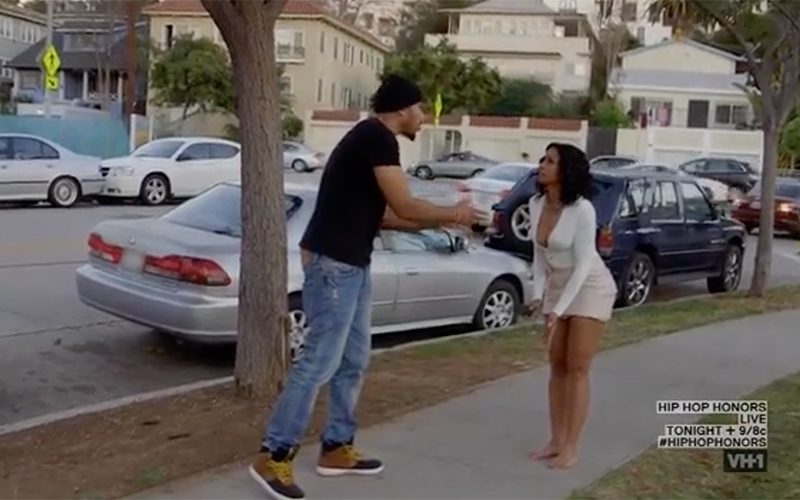 At the park, Lyfe says he can't be with Karlie because she wasn't honest about her dealings with other men. But in his confessional interview, Lyfe reveals that he just couldn't see her as a mother figure to his children.
"Is she a mother? Some kind of example for your kids, man?" asked Lyfe.
Sir, it did not take you a year and a half to figure out that Karlie is nobody's role model or proper maternal figure. You knew she was a bird when you met her and you knew damn well you weren't finding a housewife of the year from any cast member of LHHATL, so let's not play games here.
Needless to say, as much of this show is fake and staged, it's easy not to feel sorry for Karlie. But if one iota of this embarrassing saga was real, then poor Karlie got played like a fiddle by Lyfe.
Karlie Confesses Her Sins with Scrapp to Tiarra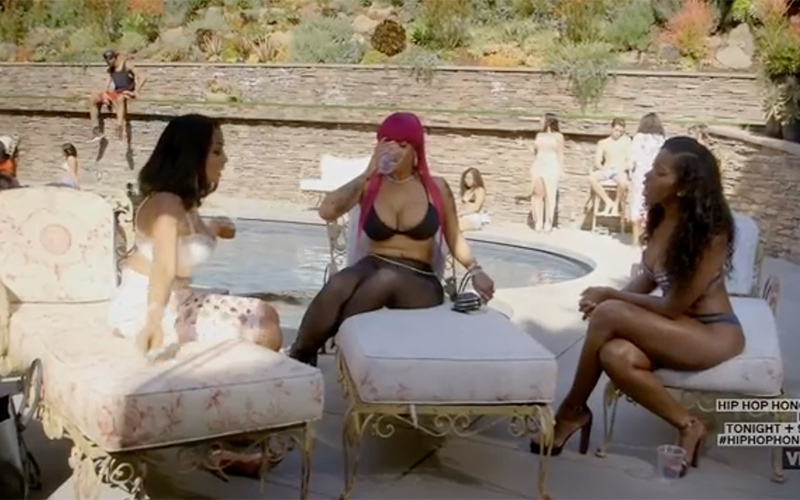 Half of this episode was filmed and located outside of Atlanta as much of the cast spent a week in L.A. for the Grammys. Stevie apparently decided to throw a pool party at his friend's house while he was out there and he invited every single ratchet LHHATL castmate for the party too.
It was at this function that Karlie Redd decided to confess to Tiarra that she had been fucking her baby daddy behind her back.
Lord.
This was Tiarra's face when Karlie spilled the beans.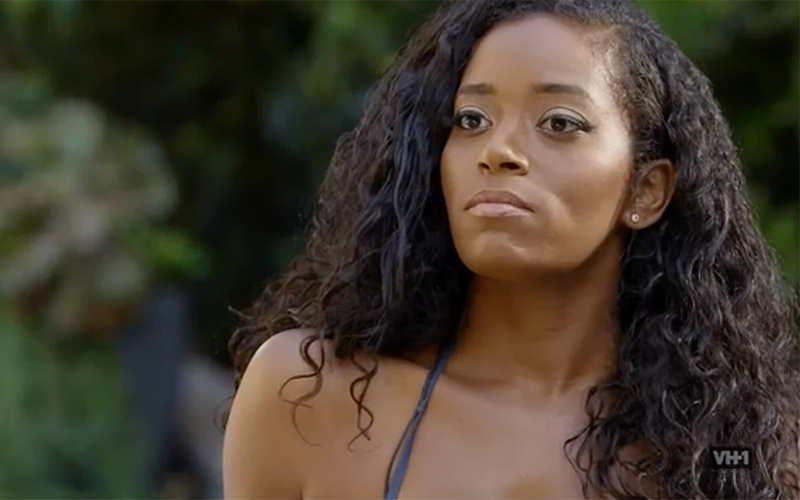 "I told Lyfe, the person I was like talking to whatever, was Scrapp," said Karlie.
"Who? Lil' Scrappy?" asked Tiarra incredulously.
"Ya baby daddy," Karlie clarified.
This time, it was Jessica Dime's face that was telling the story.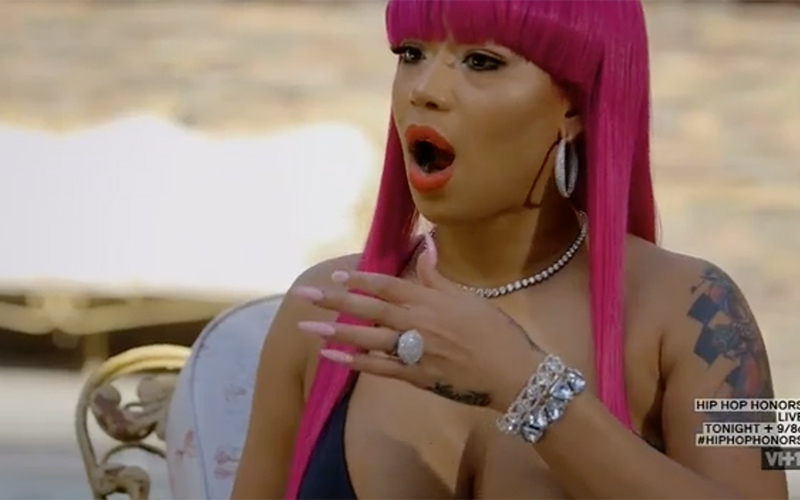 After that lil' exchange, voices were raised and threats were made. Tiarra called Karlie old and Karlie called Tiarra broke, but Tiarra had the last laugh as she snatched Karlie's purse and threw it in the pool.
Karlie said in the confessionals that she wasn't fazed as she could buy another Celine bag in a heartbeat. I don't know if I believe her since she runs boutiques that sell the cheap shit manufactured in Bangladesh that even Rainbow doesn't want, but hey, don't let 'em see you sweat, Ms. Karlie.
Jay Nicks and Joc Come Clean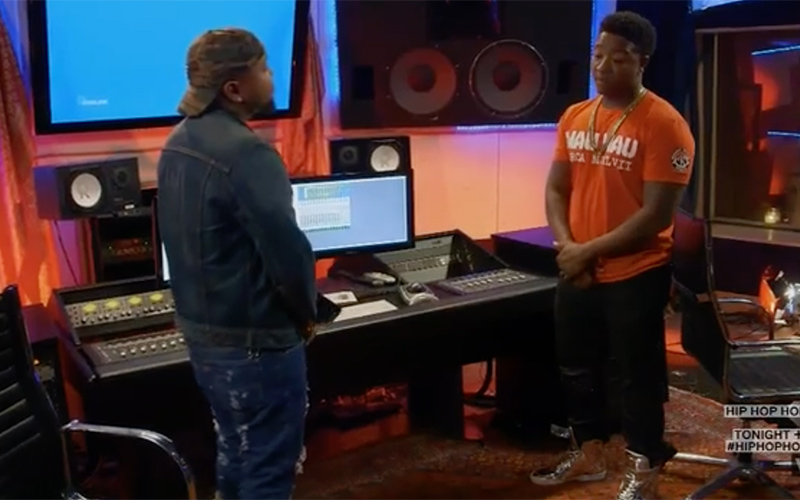 While Karlie's confession to Tiarra didn't go so smoothly, Yung Joc's confession to his so-called friend Jay Nicks that he smashed his girlfriend Amber went swimmingly.
I guess guys are just different about that kind of stuff.
Or maybe Jay Nicks, aka Lesbian Twista, just isn't that into women period so he could give less of a damn.
Either way, after dapping it out with Joc, Jay Nicks tells Joc that now that he knows Amber smashed the homie, he's going to show up to Amber's event with Tiarra on his arm since turnabout's fair play.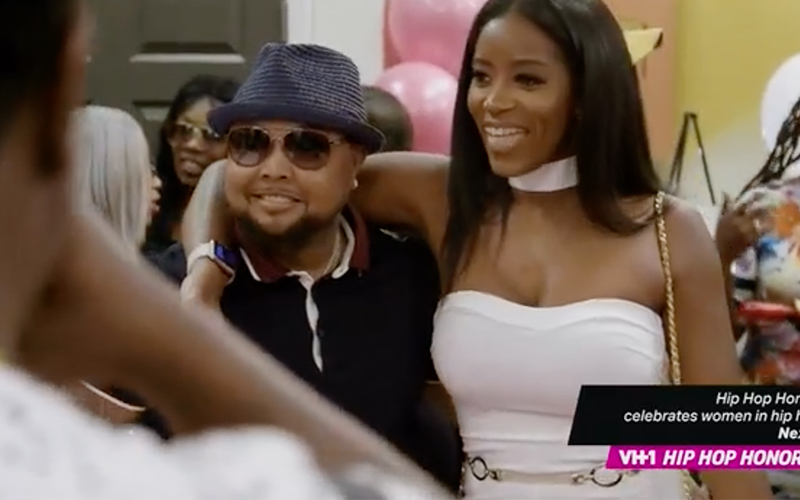 As you can guess, Tiarra and Jay's arrival at Amber's makeup event is not greeted with fanfare. But Tiarra is the pettiest party here as she initiates the fight with Amber by throwing something at her.
But points to Amber for the zinger of the episode.
"Where yo' pole, ho?" asked Tiarra.
"At the club you work at, bitch!" retorted Amber.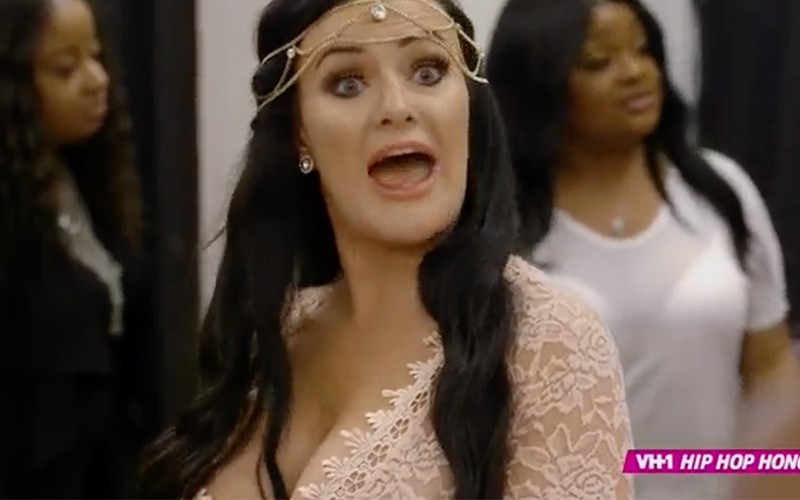 Welp. There you have it.
Scrappy Wants That Ol' Thing Back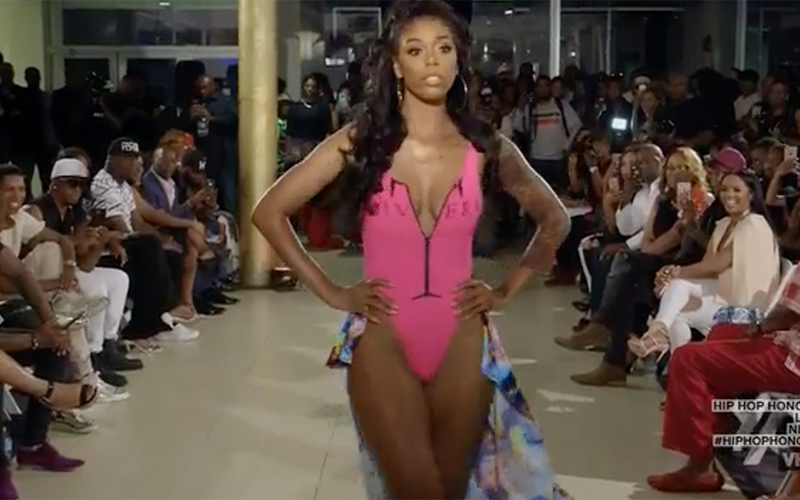 While Scrappy has been chasing after Betty Idols and shit at his momma's behest, Scrappy realized that his one and only is really Bambi. Poor Erica Dixon, I know she thought she was Scrappy's real thang, baby.
Bambi, however, has kept herself busy and her mind off of Scrappy by trailing behind Tammy Rivera, Waka Flocka's wife. Bambi has become Tammy's bosom buddy and as such, she was offered a spot to walk in Tammy's swimsuit fashion show.
Sensing an opportunity to play Romeo, Scrappy heads to the fashion show with a bouquet of roses in hand. And they actually looked like they might have come from a real florist shop and not his local Walgreens. So kudos to Scrappy. Is the frog finally turning into a prince?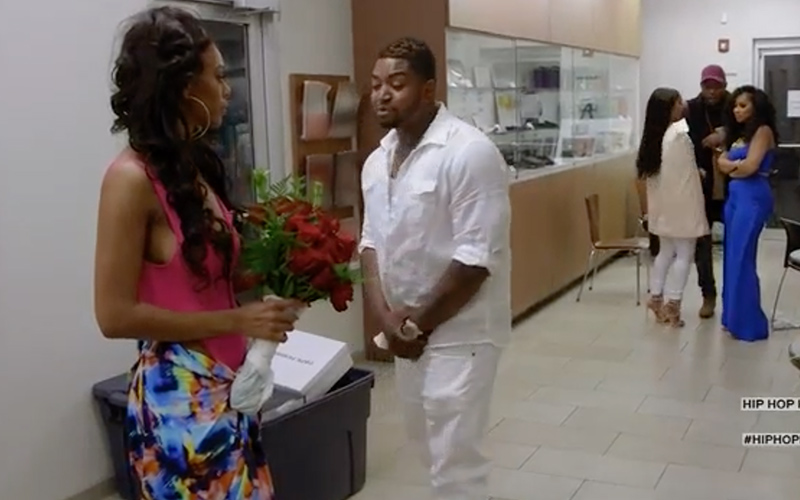 Bambi is softened by the gesture but she's not completely sold yet. She thanks Scrappy politely for the flowers but she makes it clear that winning her heart back is gonna take a lot more than that. Is he up for the challenge?
"Scrapp still has this little shimmer on me, so I'm happy to see him," confessed Bambi.
Tammy and Deb Get Real Over Her Broken Marriage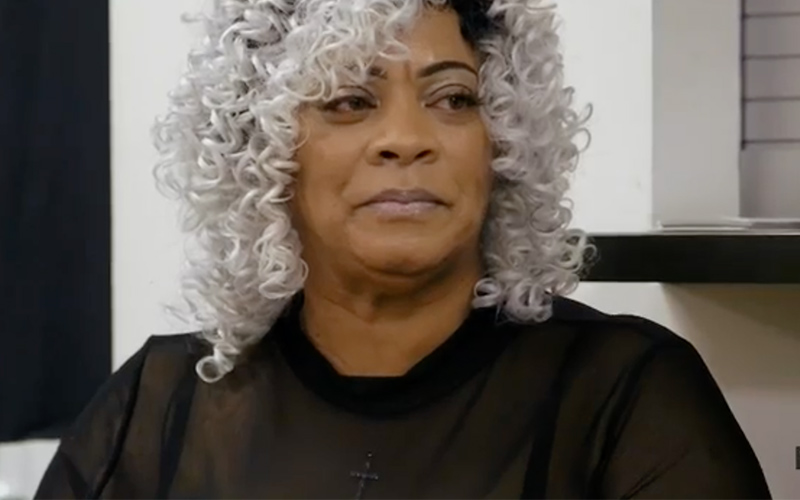 The only person that Deb Antney loved more than her sons is perhaps her daughter-in-law, Tammy Rivera. Deb and Tammy have been as thick as thieves on this show and it's clear that Deb doesn't know how to quite deal with the heartache of Tammy's split with Waka.
Part of me wonders if Waka and Tammy's break-up is merely a plot device for the show, much like Rasheeda and Kirk's so-called marital strife was a few seasons ago, but these people aren't good enough to cry and break down the way they are during these scenes. So I'm inclined to think this might be the real deal.
During the fashion show, which Deb showed up late to, Tammy's mother-in-law put on her best happy face as she sat in the front row wearing her silver Glynda the Good Witch spiral wig.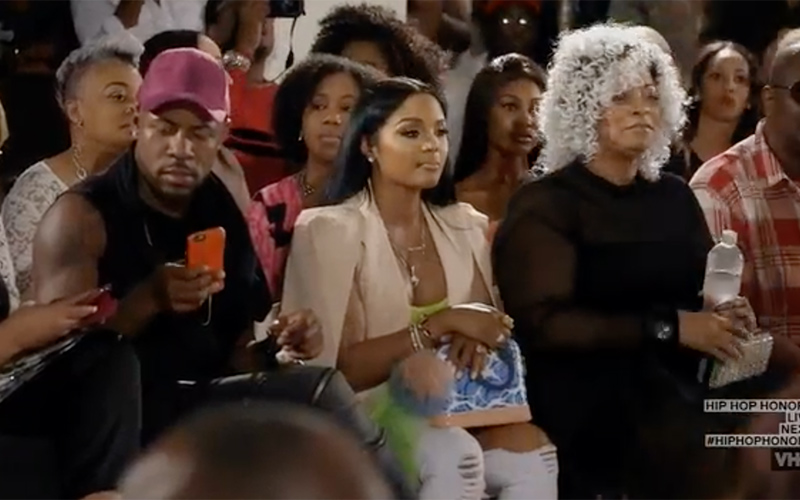 It was like NYC Fashion Week, but gone horribly ratchet, in that front row.
After the successful show, Tammy regrouped with her gal pals Rasheeda and Bambi but when Deb came backstage to congratulate her, it got really real.
Deb confessed that the split has been painful for her and she's not ready to face the fact that Tammy is moving out and severing the tie that binds. Tammy is quiet but her tear-filled eyes say it all.
"I'm not ready for this. I'm really not," said Deb. "We're family, period."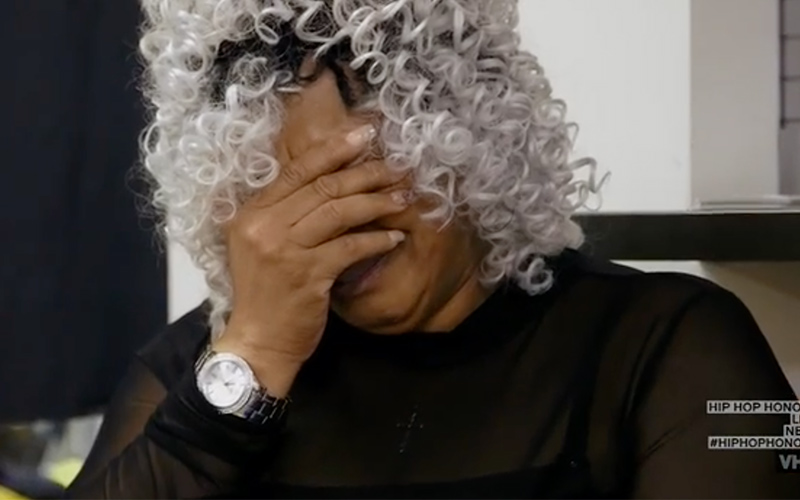 And then the waterworks started and Tammy started crying and then the two of them hugged and sobbed as the music played the scene out.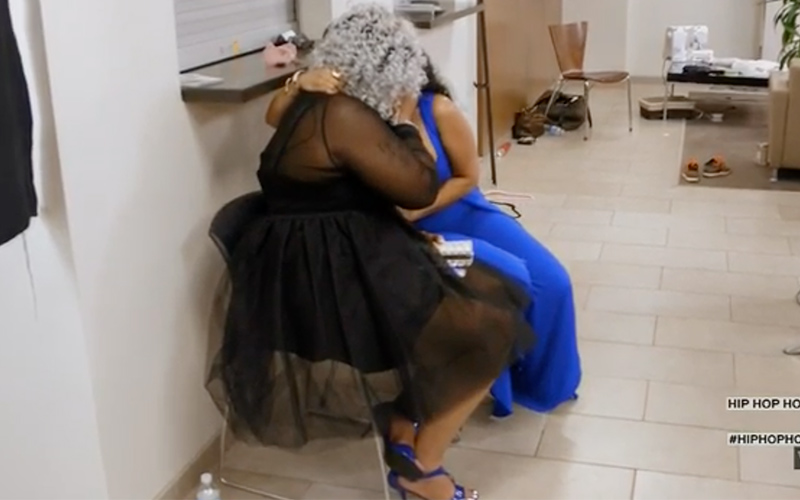 Technically, Waka and Tammy are just separated and Waka's on his Robin Thicke mode right now trying his darnedest to win Tammy back by posting "woe is me" posts on Instagram. Time will tell if this split is good or if Waka and Tammy can have their happy ending after all.
Part of me hopes they can make it, if only because I like my Deb Antney when she's bad-ass and bossy, not weak and weepy.
Be the first to receive breaking news alerts and more stories like this by subscribing to our mailing list.