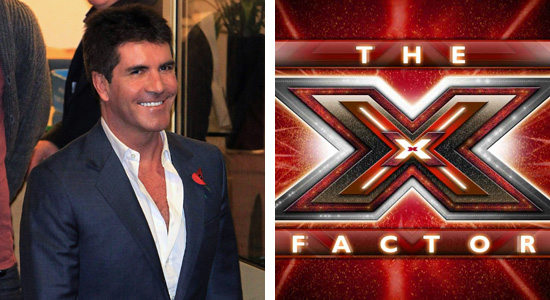 Simon Cowell is offering the winner of the American version of "X Factor" a "life-changing" prize!
The former American Idol judge has pledged to give whoever wins the talent competition series a whopping $5 million dollars, which is $4 million dollars more than American Idol winners get.
Check out the details below:
"The reason we decided [on the major deal] is to show the people who are auditioning that sometimes you have to put your money where your mouth is," Cowell said of the prize, which will be paid out over five years. "Putting up that amount is a massive risk. It puts everyone under an enormous amount of pressure. But with that pressure, you have to find a star. I'm nervous, but I'm also confident. It's a life-changing prize."

"Idol" made headlines for dropping its age minimum to 15 this year, but "X Factor" will actually allow contestants as young as 12 to participate, and there's no upper age limit. And, unlike "Idol," performers can show up as solo acts or in groups. Auditions will kick off on March 27 in Los Angeles, and dates will be announced soon for tryouts in New York/New Jersey, Dallas, Miami and Chicago. On-air auditions will take place before a live audience of 5,000 people in an atmosphere Cowell described as being like the singer's first concert and a good chance to see how they handle the pressure of live performance.

"I put my trust in the audience. I trust my gut feeling. I work with talented people. I make shows I'd like to watch," Cowell said. "It's going to be something different. The stakes are higher."

The one question Cowell would not answer is who will join him on the judging panel, though when asked if his old "Idol" Paula Abdul might be in the running, he said, "I'm a massive fan of Paula." The judges' panel will be revealed within the next month. Whoever he picks to sit next to him will also have a stake in the show, since the judges will mentor the contestants and create a very competitive on-air atmosphere that Cowell hopes will raise the stakes.

"I got bored of just judging," said Cowell. "I wanted to make a show where I, along with my fellow judges, help competitors on a regular basis. … When you lose an artist, part of you has lost as well. You win when they win."

As for whether he'll continue to be the "mean" judge, Cowell said he's a bit bored with that designation and will just be himself on the new show. "I started to cringe over the years as I saw people being booked as the so-called 'mean' judge and being gratuitously rude for the sake of it. I had my own style and like to think I'm honest and wouldn't sugarcoat something to make myself popular," he explained. "I am gong to try and be consistent, as I have been over the years. … People know what to expect if I'm on the judging panel. I don't think things will change too much."

Source: MTV News
Sounds exciting! American Idol better watch out!!
Your thoughts?
Be the first to receive breaking news alerts and more stories like this by subscribing to our mailing list.