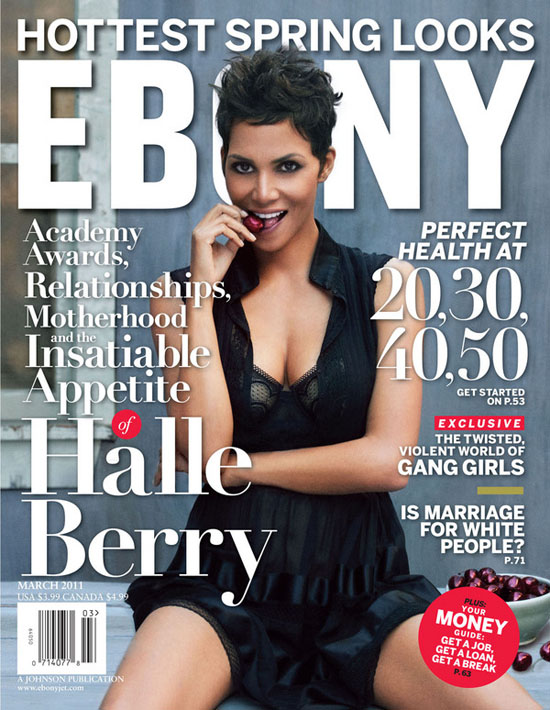 Actress Halle Berry graces the March 2011 issue of Ebony Magazine.
Halle is currently in a custody battle with the father of her 3-year-old daughter Nahla, model Gabriel Aubry. Recent reports states Aubry doesn't want his daughter labeled as a "black" person. In this issue, Halle Berry talks beauty, her daughter's ethnicity and interracial relationships.
Read some excerpts from the interview below:
On Her Daughter's Ethnicity
What I think is that that's something she's going to have to decide. I'm not going to put a label on it. I had to decide for myself and that's what she's going to have to decide-how she identifies herself in the world. And I think, largely, that will be based on how the world identifies her. That's how I identified myself. But I feel like she's Black. I'm Black and I'm her mother, and I believe in the one-drop theory

I identify as a black woman, but I've always had to embrace my mother and the white side of who I am, too. By choosing, I've often [wondered], "Well, would that make her feel like I'm invalidating her by choosing to identify more with the Black side of myself?

On Interracial Dating
Well, first thing I want to say is that I'm very connected to my community, and I want Black people to know that I haven't abandoned them because I've had a child with a man outside of my race and I'm dating someone now outside my race who is Spanish and French. I have never been more clear about who I am as a Black woman[…] And who I really am is a Black woman who is struggling to make my race proud of me, who is struggling to move Black women forward in the profession I've chosen, and those relationships have actually helped me identify more clearly[….]The truth that it's taken me a long time to learn how to love myself, and color isn't really a part of what I look at when I'm deciding who I want to spend time with. I look for the soul, the person, the evolution, what he believes in, who [he is as a person] and how does it affect me in a positive way.

On if she feels like her beauty is a burden
No. I mean, beauty is subjective. [And] there are worse things people could say about me. I do wish people would notice other things about me.I wish people would talk more about my talent than they do my beauty. I've worked hard as an actress and I always try to push the envelope, grow and do something different. And I wish people would maybe notice that more than that which I have no control over, which is how I look
You can pick this issue up on news stands today to read more!!
Spotted @ Necole Bitchie
Thoughts?
Be the first to receive breaking news alerts and more stories like this by subscribing to our mailing list.