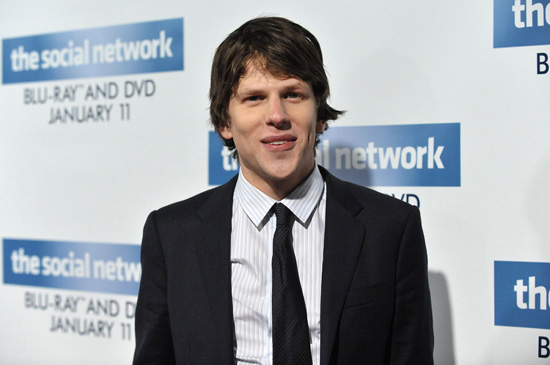 Jesse Eisenberg, star of the hit movie "The Social Network," says that he was shocked when the film became an instant hit after its summer 2010 theater release.
The actor, who plays Facebook founder & CEO Mark Zuckerberg in the critically acclaimed film, admits that although he, along with the rest of the cast, thought the movie was "great," he never imagined the movie would get such a huge worldwide response.
"When we were filming the movie, we all thought it was great, but none of us could have foreseen the cultural impact it has had," Jesse Eisenberg told HollywoodNews.com recently in an interview. "Movies don't often have the kind of impact that this movie has had. But I think a lot of that has to do with the movie being a fun and accessible vehicle for other people to discuss Facebook and social networking. I think people have wanted to have that discussion, and this movie has allowed that to happen."
Jesse also admits that he isn't as interested in the Facebook founder as he was when he first started filming the movie.
"When we were rehearsing for the movie, I tried to read up on everything I could on Mark and really understand who he was," Jesse said. "Now that the movie is over and I've moved on to other things, I read about it like everybody else reads about it. Who is this guy who is really shaping a large part of the socialization of the world? It is interesting to read about him. And you know, I'm not surprised that he has become so known.

"I think people are interested in learning about who is shaping the way they communicate." Jesse continued. "And he has just been wonderful in what probably has been a completely uncomfortable situation because this movie doesn't present him in a 100-percent, purely heroic light. It shows some flaws. It shows how he hurt some friends. I can imagine it must be uncomfortable for him, and he has just been wonderful."
"The Social Network" (available now on DVD) is up for 8 Academy Awards, including "Best Picture" and Jesse's nod for "Best Actor in a Leading Role." The film, which has earned over $200 million dollars worldwide so far (on an estimated $40 million budget), also won four Golden Globe Awards earlier this month.
In related news, Jesse Eisenberg is set to host tonight's episode of "Saturday Night Live," which will also feature performances by rapper Nicki Minaj. Rumors also suggest that Mark Zuckerberg will make a "surprise" appearance on the popular sketch comedy show.
Saturday Night Live airs at around 11:30 PM, immediately following your local late-night news.
Your thoughts?
Be the first to receive breaking news alerts and more stories like this by subscribing to our mailing list.