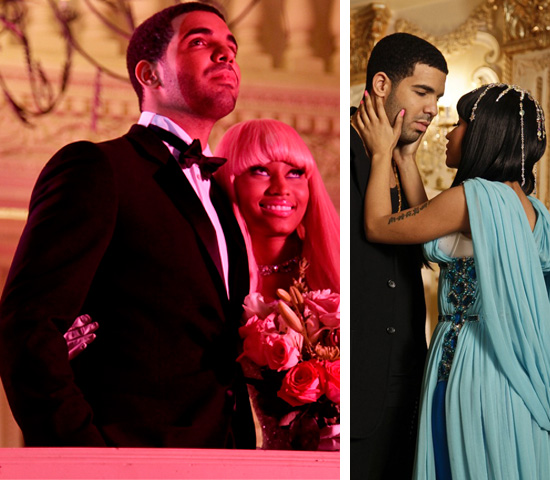 Nicki Minaj and Drake are known to joke around about their "relationship," and in Nicki's new "Moment 4 Life" music video, it looks like the two Young Money rappers got married, or something like it. But Drake isn't giving up any details.
"I mean, it's a fantasy video," Drake explained. "So you've got a very regal environment, and you've got Nicki doing what she does — big outfits, big everything — and it's a great video. The twist of it, or the concept of it, I don't wanna give it all away."
As far as his performance in the video is concerned, Drake says he didn't have to really "act" like he was in love with Nicki Minaj to get the scenes right.
"Yeah, I love that girl, man. I'm not gonna lie to you," Drizzy smiled. "I love her, so it's easy. It's not hard to play romantic."
The video is set to premiere tonight on MTV around 7:54 PM EST and will be followed by a live Q&A session with Nicki Minaj. In the meantime, check out a ton of pics (about 20+) of Drake and Nicki on the set of the video below and look out for the behind the scenes video footage when you continue reading!
Pics: Derrick G
Your thoughts on the pics?
Be the first to receive breaking news alerts and more stories like this by subscribing to our mailing list.