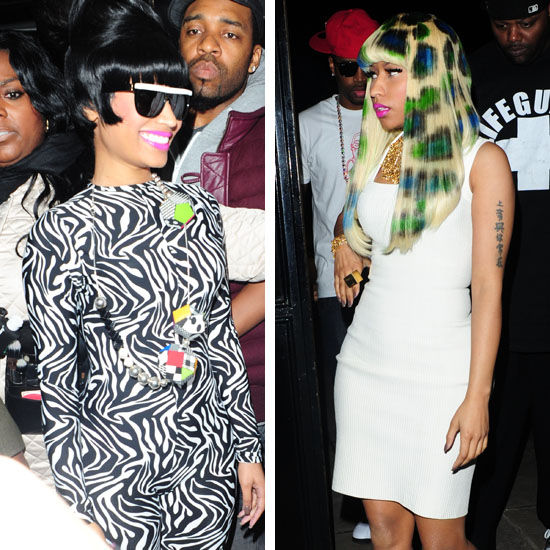 As she travels around town to promote her debut album, Nicki Minaj has been causing quite a ruckus across the pond in London, and the Young Money femcee has now officially been evicted from her hotel.
Check out these two sets of pictures of the rapper as she leaves the Dorchester Hotel Friday night (Jan 21) after being kicked out of the hotel due to rampaging fans disturbing guests and vandalizing one of the luxurious hotel's elevators. Minaj has since moved to another hotel, and this time she made sure not to reveal her exact location. She tweeted:
@NICKIMINAJ: long day of press only to find out we've officially been kicked out the hotel! Lmaoooooooo. Rescue me barbz!!!! Pleeeeeeeasse *martha voice*

@NICKIMINAJ: S/O all the kids outside the hotel just now. It got a bit CRAZY but I rlly appreciate ur support. Hopefully the next hotel will be nicer 🙂

@NICKIMINAJ: We're off to (new undisclosed hotel). Lol. I feel like I'm writing in sum sort of weird and obscured diary. Its 9:22pm over here. :/
Nicki Minaj sure does have some SERIOUS fans! Check out a few pics of Nicki in London below!!
Thoughts on the pics and Nicki getting kicked out of her hotel?
Be the first to receive breaking news alerts and more stories like this by subscribing to our mailing list.