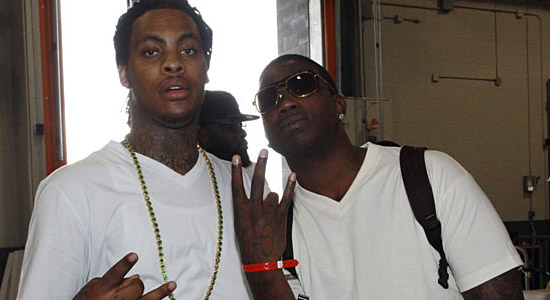 Just when you thought an ice cream cone tattooed on his face was enough…….rapper Gucci Mane has announced that he and his BFF Waka Flocka Flame are taping a pilot for their own reality TV show.
Earlier this week, we reported that instead of spending time in rehab as ordered by a judge, Gucci and Waka were filming a reality show and recording tracks in the studio. And now it's looking like we were right!
"We show everyday life. What we get into in studio and at our shows. We just ordinary people with a crazy Rock 'N' Roll lifestyle. Because of the music we make, people think that's what we do all the time — but we got a real family life. We got heart. We do a lot of things for the community and we love each other," Gucci told Rumor Fix during a recent interview.
The Brick Squad CEO went on to add that he believes most people will get a few laughs off the show.
"I think they'll get a laugh more than anything. I'm not serious all the time. People think we are thugs because of our music."
We're not gonna lie……a reality show about Gucci and Waka would be over-the-top funny. But we don't think the world isn't quite ready for that yet!
Thoughts?
Be the first to receive breaking news alerts and more stories like this by subscribing to our mailing list.