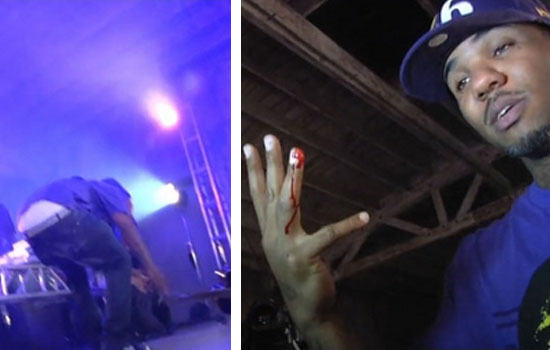 Game was hospitalized Thursday night (Jan 13) after a guitar-smashing stunt on a video set went HORRIBLY wrong.
The rapper was shooting a music video in downtown Los Angeles, along with Snoop Dogg, DJ Skee and Lakers players Ron Artest and Matt Barnes, for Wiz Khalifa's "Purp and Yellow" remix. During the shoot, Game smashed a guitar for a scene in the video, but according to TMZ, he smashed it "a little too hard … because a jagged guitar piece sliced his finger open like a baked potato." (OUCH!!!)
Game was sent to the ER after they got the bleeding under control and he received several stitches to close the open wound.
Peep the graphic pics of the cut below:
Be the first to receive breaking news alerts and more stories like this by subscribing to our mailing list.