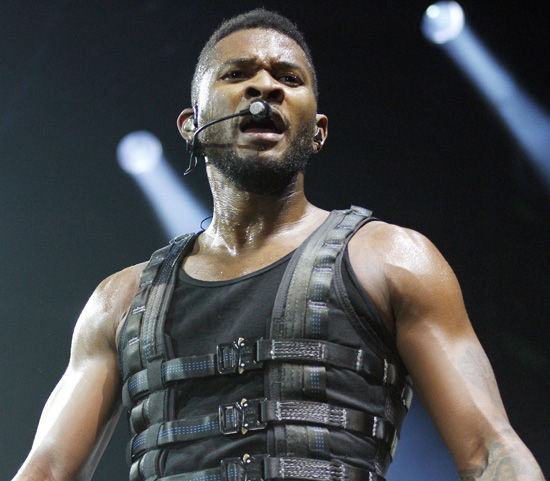 Touring the world ain't easy. Just ask Usher!
The R&B singer is not on his German fans' good side right about now after being forced to cancel not one, but TWO concerts this week in Berlin.
According to one our German readers (who sent in a personal account of what went down), Usher and his team completely canceled Wednesday night's concert (after keeping fans waiting for nearly an hour) and in the middle of the re-scheduled date (last night, Thurs. Jan 13), the singer stopped in the middle of the show and apologized for not being able to finish, which was met with a ton of loud boo's from the crowd.
Details (and video footage) are below:
Hey gossiponthis!

Im from Germany and Im pretty sure that almost no one of you heard about the BIIIIIIIIIIG Usher scandal in Germany. Yesterday Usher had his first show of his OMG Tour in Germany/Berlin and after the previous artist, Tinie Tempah, fans waited more than 40 minutes until the management cancelled the show because Usher "wasn't feeling well" and they postphoned it to today. It is also said that he was seen in Berlin in a Cocktailbar after cancelling the concert!

His fans had to wait about 40 more minutes today until he came on stage. There were five songs (sung only playback not live), interrupted by several 5-minute breaks during which Usher left the stage without further announcements and a "DJ" took over for a few minutes. Then the fiasco took its course: as Usher sang a song which he sang "wrong and crooked", he interrupted the song and gave an excuse for the cancellation of the previous day. While trying to sing everybody booed at him.

Usher's reaction: he sat down and put his head on the microphone. After he had sung for another 10 seconds, he went off the stage. The lights went on and the concert was over. Fans from all over Germany, Austria and other countries came to see him and then something like this happened..

No one knows exactly what happened, if he's really ill or if he took drugs, too much alcohol.. I thought this might be interesting for you and sorry for my bad English!

xoxo

Ms. Anonymous
Sounds like Usher rhas a lot of making up to do with his fans in Germany!! Check out the video footage "Ms. Anonymous" sent to us below.
Thoughts?
Be the first to receive breaking news alerts and more stories like this by subscribing to our mailing list.