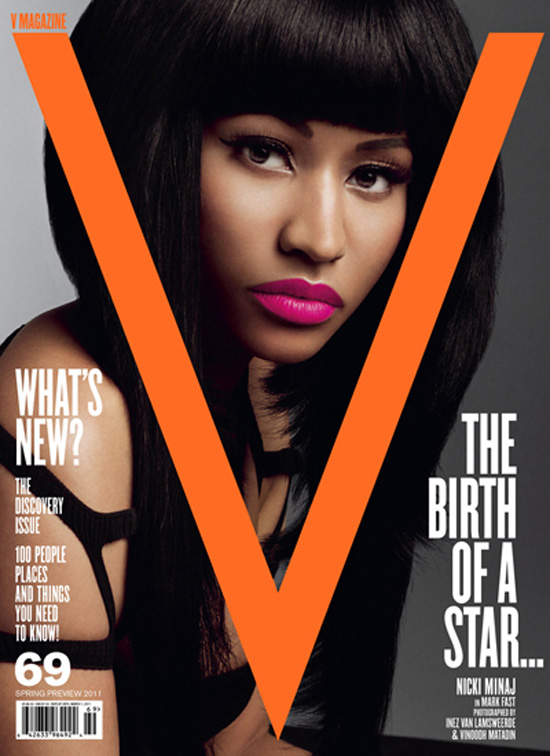 Nicki Minaj is known for rocking bizarre outfits and crazy, multi-colored wigs…….however the Young Money femcee decided to keep it simple on the cover of the latest edition of V Magazine.
The rapper also recently sat down with E! Online for a quick interview where she talked about her new music video with Rihanna, her favorite artists outside of Hip-Hop, working with her Pop counterpart Lady Gaga and more.
Check out her E! Online interview below…
You just shot the music video for your next single "Moment 4 Life," featuring Drake. What are you working on next?
We're shooting the video with Rihanna for "Fly" this weekend. We're going to save the world in more ways than one with the video and that's all I can say about that… I love Ri-Ri! I mean, when she's not grabbing my ass she's a sweet girl.

Who are some of your favorite artists outside of hip hop?
I like everyone. I don't listen to music based on genre. Like, I'll hear a song and then I'll live for that song for like months and I'll be like, "Who the hell is that?" I listen to Taylor Swift. I like Coldplay. I listen to gospel a lot. I listen to anything that's just beautiful music.

Would you do a song with Taylor?
Of course!

Personally, I think you should do a song with Lady Gaga, who you've been compared to in the past.
A lot of people say that to me! I'd definitely be open to it, yeah… I mean, Gaga is badass. Being compared to greats can never bother me.

What does all your success mean to you?
I'm proud that women, female rappers that come in this game after Nicki Minaj can see that, you know what? There is a chance for you to sell just as much as the boys and to be recognized. And you don't have to feel like, because you're a female rapper, you going to not be recognized. And so for that alone, I'm proud. I'm happy.

Lastly, are you single?
Yes. I'm single and ready to mingle [laughs].
Your thoughts?
Be the first to receive breaking news alerts and more stories like this by subscribing to our mailing list.