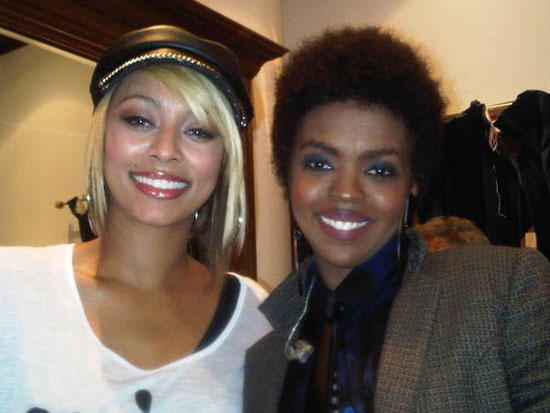 Ever had one of those "I can die now" moments when you finally get the chance to meet someone you've been admiring from afar for so long? Well, Keri Hilson had one of those moments when she came face-to-face with her idol Lauryn Hill backstage at Hill's concert at the Blue Note Jazz Club in New York City.

Peep below to see what Keri said about meeting Lauryn Hill:
"No one understands…I will never be the same," Hilson tweeted along with the picture above. "Utmost respect 4 Lauryn Hill. So beautiful. Very down to earth. Anyone who knows me knows she's a huge inspiration to me…I told her 2nite. … Said she loves Pretty Girl Rock (SCREAAAM) & her daughter loves me! Said my music embodies a certain confidence women need. I'm so inspired," Miss Kerry Baby said.
Keri Hilson has previously stated that she would like to work with the former Fugees member on some new music. Late last year, she told WENN:
"Lauryn Hill is someone who is very candid with her music… I have no intent to create some character for the sake of entertainment, I mean, I respect those who do, there are different avenues for entertainment but I loved her candidness, her candor, she's just up there. She exposes all sides of herself, her vulnerabilities, insecurities but you also see the strength and her innocence. Even her business savvy she talks about in her records, I just appreciate seeing a woman in true form and that's what I try to do with my music as well, so I figure it would be an awesome collaboration."
Now that she's finally met Lauryn Hill in person, Keri might actually get the chance to pen a few tracks for Hill's highly anticipated comeback album (release date TBA).
Your thoughts?
Be the first to receive breaking news alerts and more stories like this by subscribing to our mailing list.