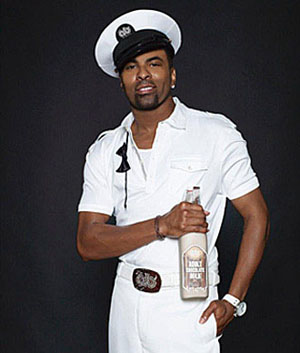 Joining the ranks of other celebs who are endorsing alcohol these days, Ginuwine stars as a spokesman in a new ad campaign for a 40-proof version of chocolate milk.
Ludacris has Conjure, Diddy has Ciroc, and back in the day, Billy Dee Williams had Colt 45.
And now Ginuwine has ……… "Adult Chocolate Milk."
**insert obligatory blank stare here**
They say the stuff is a Vodka-based alcoholic beverage that tastes EXACTLY like chocolate milk, and it will be released nationally sometime this year. And soon, you'll be able to see this hilarious picture of Ginuwine dressed up as a "chocolate" milkman on billboards in Las Vegas as well as on television, thanks to a planned national TV commercial.
Speaking on the shoot, the R&B crooner said:
"It was a blast, getting to dress up as a milkman for the day. I really got into character."
Your thoughts on the pic?
Be the first to receive breaking news alerts and more stories like this by subscribing to our mailing list.