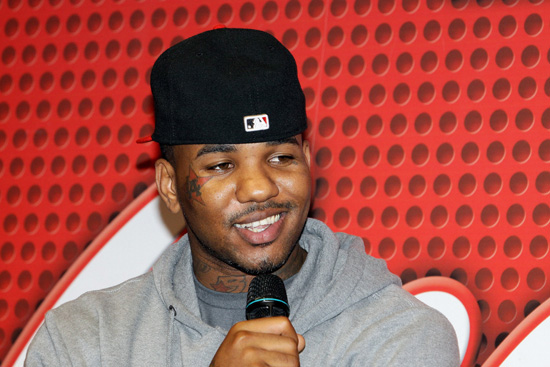 Not everyone had a "merry" Christmas this year. Game claims that he was robbed while getting some last minute Christmas shopping in the Topanga Mall in Canoga Park, CA Friday (Dec 24).
The rapper and his friend were out doing some last minute shopping at the mall, and when they returned to their car, which was parked in the valet, they found that some jewelry, a luxury travel bag and $75,000 worth of cash were missing.
The rapper tweeted:
So, heres my day: tried 2 do last minute shoppin 4 da kids & valet stole a Louis Duffle out @avanterose 's car & we 2 chains & $75,000 short. So police come & guess who get patted down ? Yea, US !!! then they tell us da palmtree was blocking the crime scene on the tape.

Topanga Mall "Nordstroms" valet is janky as F**K !!! They gotta a lil stealing ring goin, PARKS YA OWN SH*T from now on! They aint seen the last of us tho. Soon after xmas is over….IT'S ON you thieving mothaf**kas !!! If u dont get a gift tomorrow THAT'S WHY & me or @avanterose couldnt do sh!t cuz both are dumb ass's on parole.

Ole' Yes officer, No officer ass n!ggas we was!!! Then after 4 hrs of no answers we drivin off & da most racist of all da cops gone say: "Thats a sweet ride man". WHAT ?!? B!tch, investigate. Nordstroms talmbout the palmtree was in the way of the crime scene…….. Mothafucka please ! #WearAREshitat. $75,000 dollar lesson learned. Merry X-Mas to all & to all a goodnight.
Damn. Sounds like the Grinch stole some of Game's Christmas!
Spotted @ Rap Radar
Thoughts?
Be the first to receive breaking news alerts and more stories like this by subscribing to our mailing list.