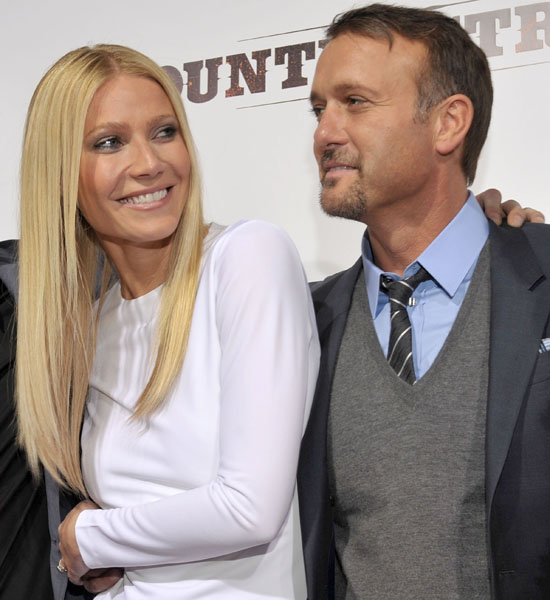 Gwyneth Paltrow says she broke down in tears after she punched her friend Tim McGraw in the face for a movie scene. Why? Because she has never hit anyone in her ENTIRE life, she said.
Paltrow and McCraw play husband and wife in the new movie "Country Strong," and the actress had to punch the singer/actor right in his country mug during a drunken tantrum scene. After faking the punch several times for the cameras, Tim started calling Gwyneth names to make her angry enough so that she would really hit him……..And she did just that.
"I'd never hit anyone in my life, and I didn't like it at all," she told the Los Angeles Times in a recent interview .

"Tim started being very combative with her and egging her on. She ended up whacking him and she started crying afterward," director Shana Feste said.
The Huffington Post calls Gwyneth Paltrow's performance in "Country Strong" her best performance to date.
Paltrow easily delivers the best performance of her adult life, playing a woman who has many demons to battle. The strength to keep it together threatens to fall apart constantly, yet it never once veers into melodrama. (While researching her character, Paltrow even sought out help from Downey Jr. in understanding an addict's self-destructive behavior.)

The acting performance aside, the surprising part is seeing Paltrow belt out tunes, play the guitar and strut on stage as if she was born and raised in the heartland. Those familiar with the actress' filmography know she can sing, as witnessed previously in films like Duets and Infamous. But in recent years she's been more known for the unsolicited advice she gives on her GOOP website or appearing in the front row at fashion shows with detached coolness. Seeing her getting on some country flair is downright refreshing.

In one of the film's most touching moments, Paltrow grants a young boy his dream of meeting Kelly Canter through the Make-A-Wish Foundation. Kelly visits him in his classroom at school and ends up having a dance with him.

Paltrow's handling of the little lad (played by Gabe Sipos, who is in real life a cancer survivor) is a joy to watch. Her face lights up in his presence. It's a look that that's impossible to fake – no matter how many Academy Awards you've won – because only someone with children could possibly glow like that. Paltrow's motherly instincts are in high gear here and she's never looked more beautiful than in that moment.
In addition to Gwyneth Paltrow and Tim McGraw, "Country Strong" also stars "Gossip Girl" actress Leighton Master, and is currently being showed at select theaters. The movie will be released in theaters everywhere in January.
Your thoughts?
Be the first to receive breaking news alerts and more stories like this by subscribing to our mailing list.