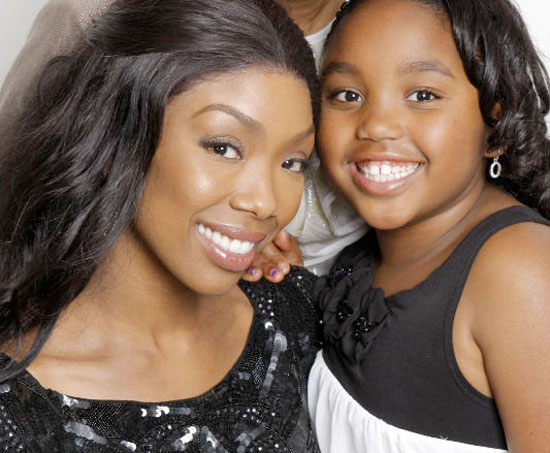 Now that Brandy's 8-year-old daughter Sy'rai doesn't believe in Santa Clause anymore, and knows that mom is the one putting the gifts under the tree, she wants an iPhone AND a Blackberry for Christmas.
But Brandy says that ain't hapnin' cap'n. She told our friends over at Pop Eater:
"I got her list, and it is ridiculous. When she believed in Santa, she had a smaller list, but now that she knows I'm Santa Claus, she went crazy. Now, she wants a Blackbery and an iPhone 4. It's like, 'Little girl, you are 8, and you're asking for a Blackberry?'"
Even though she won't be getting any smart phones this Christmas, she'll still have plenty of other gifts to unwrap.
"It was so cute. She also asked for a hug and a kiss," Brandy said. "Then clothes and shoes. She'll get that and a few Barbies and American Girl dolls. But no way is she getting a Blackberry."
The former "Dancing with the Stars" hopeful says that she hopes to spend this Christmas with her family in Mississippi, where she was born, and she's looking forward to a good, home-cooked meal.
"I love Mississippi. There is something about the energy there that feels like home, so I want to go back with my family, hang out, eat and go fishing," she said. "My mom never cooks, but for Christmas and Thanksgiving she does. We always look forward to her cooking," the singer reveals. "For Christmas, there is a bunch of food and Christmas music. We'll open gifts and just hang out at the house all day. It's nothing spectacular, but it is filled with a lot of love."
Catch Brandy and her family Sunday nights at 11 PM EST on VH1's "Brandy and Ray J: A Family Business!"
Your thoughts?
Be the first to receive breaking news alerts and more stories like this by subscribing to our mailing list.