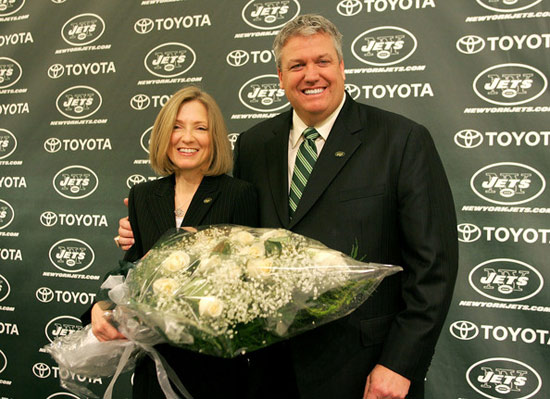 Now this is some weird ish…
New York Jets Head Coach Rex Ryan and his wife Michelle have allegedly been linked to online profiles on several foot-fetish dating web sites. The couple  also apparently make their own foot-fetish videos and even have a few on the web that you can check out. (………..who does that?!??!)
The video footage and the details are below:
Foot-fetish videos of a woman who's a dead ringer for the wife of Jets coach Rex Ryan burned up the Internet Tuesday night – giving the word "football" a whole new meaning. One of the four videos on the sports gossip site Deadspin.com show the woman and an off-screen cameraman who sounds like Ryan having intimate discussions about her feet. The petite blonde showing off her toes in the videos bears an uncanny resemblance to Michelle Ryan, the coach's wife of 23 years. Deadspin reported that the woman featured in the videos goes by the Internet handle "Ihaveprettyfeet" and has more than looks in common with the coach's wife.

Like Michelle Ryan, the 47-year-old woman is a housewife with a master's degree, a Virgo and once lived in Ellicott City, Md., which is where the Ryans lived before they moved to New York, Deadspin said. Rex Ryan, in a scheduled interview session with Chicago reporters on Wednesday morning, only said: "I know you need to ask, it's a personal matter."

In one clip, the woman is sitting in a green SUV with her bare feet hanging out the window when she is approached by the sound-alike Rex Ryan. "You have really beautiful feet," the unseen cameraman tells the woman. She responds, "Thank you. You know most men do think my feet are pretty because … well, they're soft and they're petite and, of course, they are very beautiful." The cameraman then asks, "You mind if I touch them." He proceeds to request, "Can I smell them." "I bet most men like to do a lot of things with those feet," the man says. The other videos show the woman lounging on a couch, drinking a beer and reading a book while flexing and rubbing her footsies. The videos are called, "Awesome Soles" and "Great Feet Out of Shoes" and "Hot Mature Sexy Feet."

Ryan has often professed his love for his wife, his college sweetheart from Southwestern Oklahoma State University. Last month, he compared her to Patriots' quarterback Tom Brady's wife, Gisele Bundchen, showing reporters a magazine featuring her modeling an NFL clothing line. "I'm also married to a supermodel," Ryan boasted. In his first press conference in January 2009 after inking a $11.5 million deal to coach Gang Green, Ryan mentioned the affection he had for his wife. "My wife of 22 years right there … there's only two kinds of coaches' wives in the NFL and that's ex-ones and great ones," he said as his wife looked on.
Wow….those NY Jets sure do know how to pick 'em!!! SMH…
Your thoughts?
Be the first to receive breaking news alerts and more stories like this by subscribing to our mailing list.